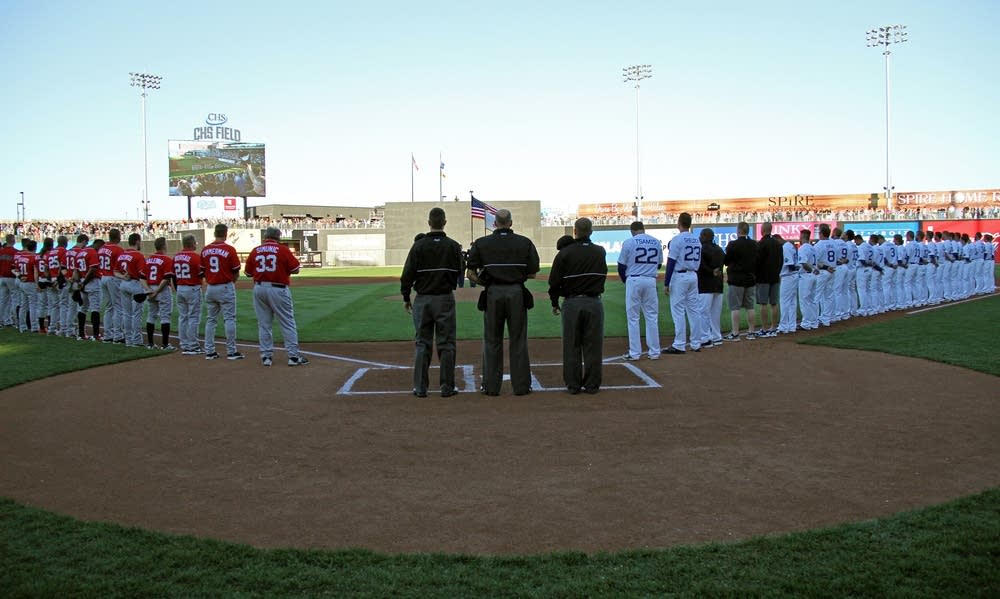 Perhaps it figures that when a Republican and Democrat finally get together on bipartisan legislation in Congress, it intends to enrich fat cats and stiff people trying to make a living.
Rep. Cheri Bustos (D-Ill.) and Rep. Brett Guthrie (R-Ky.) have introduced the "Save America's Pastime Act" (H.R. 5580) which aims to strip minor league baseball players from minimum wage statutes and overtime pay.
[Update 12:59 p.m. 6/30 – Rep. Bustos announced she is withdrawing her support.]
Their legislation comes in response to a lawsuit filed by several ballplayers against Major League Baseball claiming they are denied the protections afforded other workers.
City Pages reported last year, for example, that the St. Paul Saints players make on average about $1,400 a month. That's better than some players elsewhere.
Most minor league ballplayers earn between $3,000 and $7,500 for a five-month season, according to Sports Illustrated. Sure, some will make it to the majors — where the minimum salary is $500,000; most won't.
Baseball has been able to pay minor leaguers low wages partly because of a historical exemption from antitrust law. The exemption allows baseball to unilaterally set salaries and working conditions for minor league players.

Without this exemption, minor league players could theoretically sue under the Sherman Act, and argue that big league and minor league owners have conspired to unreasonably limit salaries. While this exemption was narrowed by the Curt Flood Act of 1998, it remains in effect for Minor League Baseball.

Baseball has also benefited by the inability of minor league players to form a union, which could advocate for higher player compensation and hold leverage through the power to strike. There have been multiple unionization efforts over the years, but none have convinced minor leaguers to join hands.

The failure of unionization likely reflects different career priorities for prospects and veteran minor leaguers and fear of retaliation by big league teams. Unless they have appeared on a big league team's 40-man roster, minor leaguers are not members of Major League Baseball Players' Association.
"You're working seven days a week more often than six days. For a 7 o'clock game, you're often getting to the ballpark around 1 o'clock, many, many hours before the game because you have all the pregame work you have to do," Garrett Broshuis, a former minor leaguer and one of the attorneys in the lawsuit tells The Sporting News. "And you often aren't leaving until 11. Those are 10-hour days. Even on day games, you're putting in six hours or so.
"So you're talking about a few dollars an hour that all minor leaguers are making, and as a result you have guys piling six or seven deep into a two-bedroom apartment, sleeping on air mattresses. You go into a minor leaguer's apartment and it's not uncommon to see two air mattresses in the living room. They don't have furniture, they have air mattresses, because that's where guys sleep."
Rep. Bustos, a Democrat who supports raising the minimum wage, is also the daughter of baseball's first lobbyist, according to Above the Law.