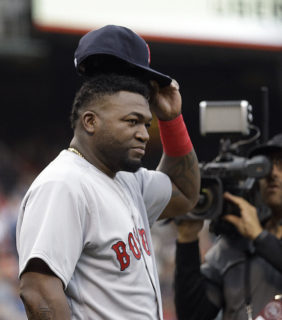 David Ortiz, in the midst of one of the greatest seasons ever for a player 40 or older, makes his final stop in Minnesota this weekend. He's on a retirement tour and Minnesota, of course, is the place where it all started.
The Twins gave up on Ortiz because they had Jose Morban ready for the big leagues. Or so they thought.
The old crowd, including Torii Hunter, will take part in a ceremony honoring Ortiz tomorrow night at Target Field.
Ortiz played here when the Twins were very bad. He played in an awful baseball stadium. But he didn't play before terrible baseball fans. Losing is never an attendance booster, true. But Ortiz' comment to USA Today about the local baseball environment stings just a bit.
"What was funny is that when I played in Minnesota, they didn't even know they had a major-league baseball team," the future Hall of Famer said. "I used to walk around the street and people didn't know who the hell we were. Nobody used to come to the Metrodome to watch games. Going to the Metrodome to watch a game was like sacrificing one of your kids."
Let's check on that.
In 2002, Ortiz' last season in baseball Siberia, the Twins drew an average of 23,000 fans a game, 20th place in Major League Baseball. That's roughly the same as 2016, in which the team resides in 22nd place on the list.
A year earlier, the team drew 22,000 a game. Not great. But the team didn't play anonymously, either.
The low point, however, was 2000 when the team drew only 1 million fans in the last of four straight 90-loss seasons, during which Ortiz spent most of his time in Salt Lake City. The days of Kirby Puckett, Ortiz' mentor and the man for whom Ortiz still wears number 34, were over.
The Pohlads had trimmed the payroll to just $17 million, just about Ortiz' current salary. That year, Ortiz' first full season with the Twins, he was pulling down a $220,000 salary.
Ortiz' emotional bond with Minnesota fans is pretty thin. He wasn't here very long. He wasn't that impressive (only 58 of his career 519 home runs were hit in a Twins uniform), and his historical significance is as the centerpiece of an ongoing debate about whether he would have been this good had he stayed here.
But tomorrow night, people will sacrifice their children, give him polite applause and then, like Ortiz, move on.
(h/t: Paul Tosto)