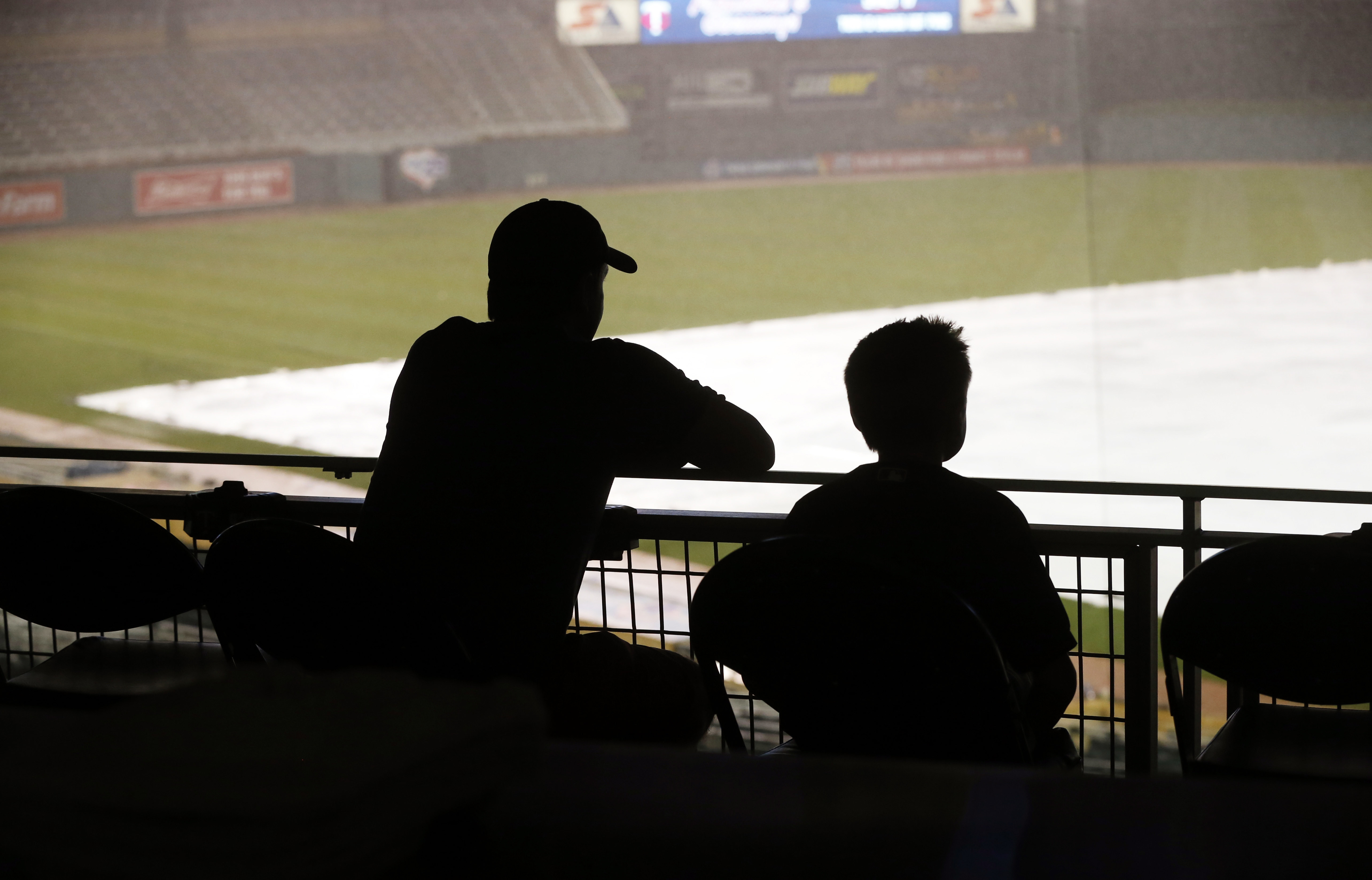 "How do you like me now?"
— The Metrodome
The Minnesota Twins are extending an olive branch to fans who were initially livid last night when the team refused to postpone a game despite the storms that raced through the Twin Cities for most of the evening.
Fans were forced to either give up on the game, or sit through hours of rain to watch two of the worst teams in baseball.
The game didn't start until close to 10 p.m.
We waited out the storms, the wind, the rain.

Time for #MNTwins baseball! Late-night edition.

⚾️☕️⚾️☕️⚾️☕️⚾️☕️⚾️☕️⚾️☕️⚾️

— Minnesota Twins (@Twins) July 6, 2016
On the company website today, the Twins say they'll make it up to fans.
All fans holding tickets to the Tuesday, July 5, weather-delayed game against the Oakland Athletics will have the ability to exchange those tickets for a future Twins home game (subject to availability).

Tickets may be exchanged at the Target Field Ticket Office located on Target Plaza off 7th Street. Tickets may be exchanged for any seat of equal or lesser value. Fans holding premium tickets (Suites, Thomson Reuters Champions Club, CATCH and the Budweiser Roof Deck) will be eligible to exchange their ticket for a future game in the general seating area. Tickets for the weather-delayed game are not subject to refunds.
By the time the game started, only a few hundred of the Twins' closest friends with nowhere else to be were still around. They got a ballgame, a win, and a free ticket to another game.
rain delay = free #twins tix ?? pic.twitter.com/TwOqtmSbzz

— brittany panning (@bpann44) July 6, 2016
Official attendance for the game was listed as 16,938.
Blame the schedule. Non-division teams only come into Target Field once a season. A day game was scheduled today because the Oakland A's need to get out of town in time to get to Houston at a reasonable hour to play a game on Thursday.
The two teams only have one day off on the same day for the rest of the season — Sept. 8. But the days off are guaranteed by contracts with the players' union. But even if they weren't, there's no way a team would fly to Minnesota for a game, then back to Oakland for the next scheduled game, especially when so few people would be interested in watching it.