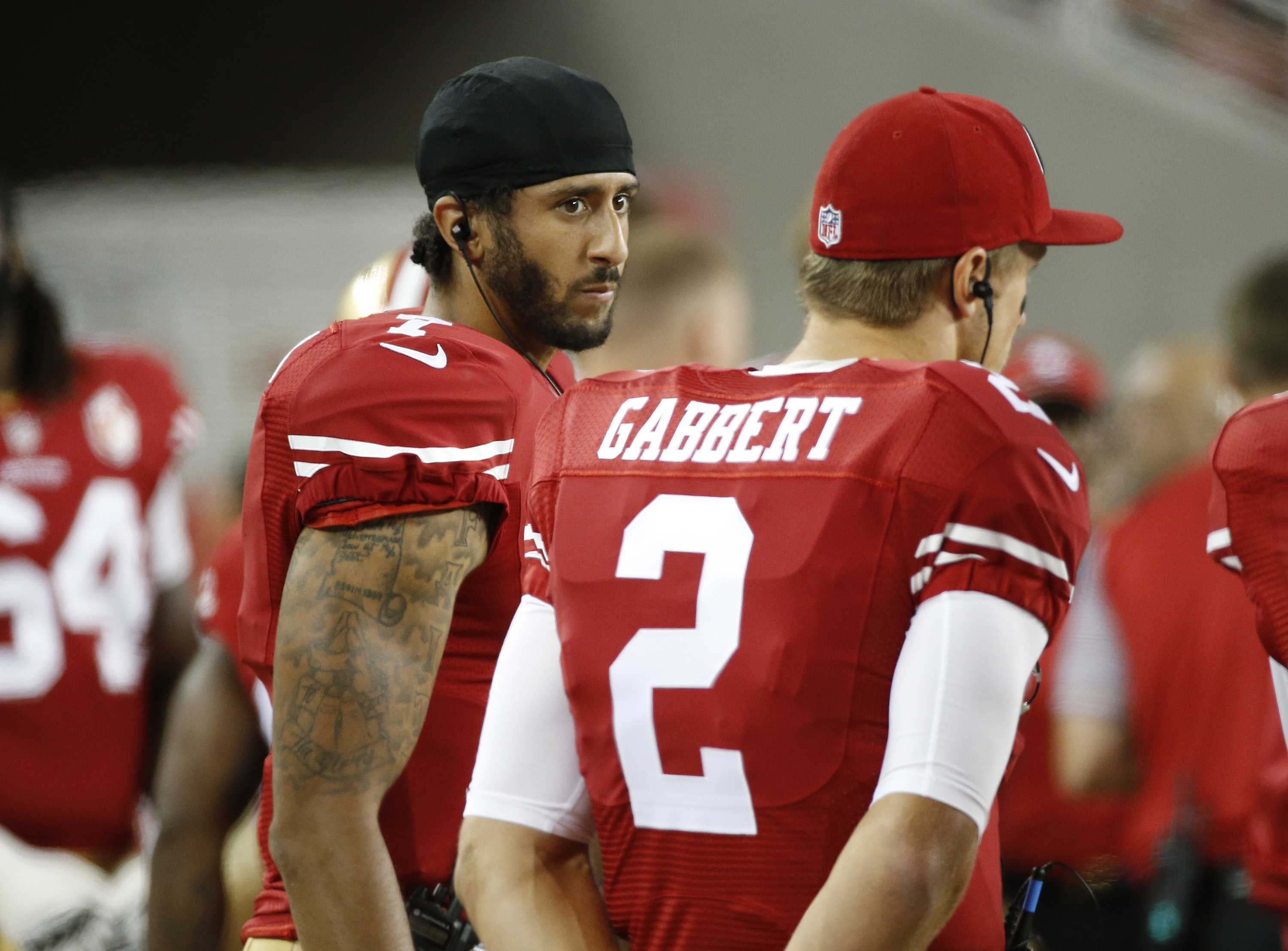 For all the talk of freedom, nothing gets us riled up more than people using it.
The latest is San Francisco 49ers quarterback Colin Kaepernick, who remained seated during the playing of the National Anthem on Saturday.
"I am not going to stand up to show pride in a flag for a country that oppresses black people and people of color," Kaepernick told NFL Media in an exclusive interview after the game. "To me, this is bigger than football and it would be selfish on my part to look the other way. There are bodies in the street and people getting paid leave and getting away with murder."
That's not a position that's everyone's cup of tea. Neither is it the Lindbergh kidnapping.
Kaepernick, by sitting, is standing for something. How often does that happen among athletes anymore? "This is not something that I am going to run by anybody," he said. "I am not looking for approval. I have to stand up for people that are oppressed. If they take football away, my endorsements from me, I know that I stood up for what is right."
It should give Outrage Nation something to do for a few days.
Hey @Kaepernick7 Football is an American sport. If you're not feeling American feel free to leave you ungrateful clown.

— Eric Bolling (@ericbolling) August 27, 2016
Good for Kaepernick, especially considering how much money the NFL makes off black guys. https://t.co/KAM3m6uv9d

— Chris Kluwe (@ChrisWarcraft) August 27, 2016
"There are some 1,200 African-American players who will make NFL rosters this year, and you can count on one finger those who will take on the subject of race in America the way Kaepernick is," Sports Illustrated's Peter King writes this morning. "The reaction has been intense. Asked about it Sunday afternoon, one NFL head coach said, 'My f—ing guys will stand for the anthem! And they want to!'"
A postscript: I like Kaepernick's action. We want players to speak freely and tell the truth—until they do it, and then we want them back in the same boring mold. Good for Kaepernick to exercise his First Amendment right of free speech, which you rarely hear a current player do.

For his sake, I hope he has some thick skin this Thursday and on days following, when he's sure to get pushback on his recent actions.

For people who know the man, this weekend wasn't a big surprise. Three years ago, Kaepernick told me: "I want to try to break that perfect football mold. I don't want to be someone who can be put into a category." In one weekend, he accomplished that.
"A lot of guys try to stay out of the political limelight because you have things like endorsements, you have fans, and all these other things that you represent," Malcolm Jenkins, of the Philadelphia Eagles, said.
"But when it comes down to it, especially when you're talking about the relationship of African-Americans in this country right now. … My entire family is black, and I can sit on my stage and act like these things don't apply to me, but my two younger brothers, my cousins, my dad, my mom — all of them are dealing with those same things. … I think guys in multiple sports across this country are starting to realize that if we do want to change, then this is probably something that we'll need to get involved in at some point."
Jason Page, of NBC Sports, says the flag stands for more than the law enforcement community and politicians.
It stands for the guy who jumped into the flood waters in Louisiana to save a complete stranger and her dog from a car that was sinking into a watery grave. It stands for the volunteers who will spend the foreseeable future in that same community helping those in need.

There are examples of the world that upsets Kaepernick and leads him to his decision to boycott the national anthem. But I can also point to countless examples of the people of this country that show the very best of what that flag represents.

While I may find Colin Kaepernick's boycotting of the national anthem to be short-sighted, I also will vigorously defend his right to stand for something he believes in.

I've heard people say things that intimate the 49ers should release Kaepernick. Others point to the nearly $17,000,000 he is making this season alone as a rationale for why he should stand during the anthem. Neither of these positions makes all that much sense. Whether you are poor or wealthy, you have just the same right to voice your opinion on something that is of importance to you.
Some fans burned Kaepernick's jersey, which, of course, they had the — say it with me — freedom to do.
Kaepernick, who isn't a very good quarterback anymore, will probably be cut this week and his playing days may well be over.
But he's stirred up a controversy not seen in pro sports since John Carlos and Tommy Smith clenched their fits on an Olympic medal stand in 1968.
America, the home of the brave, survived just fine.