[This post has been updated to include statement from Greyhound Pets of America – Minnesota]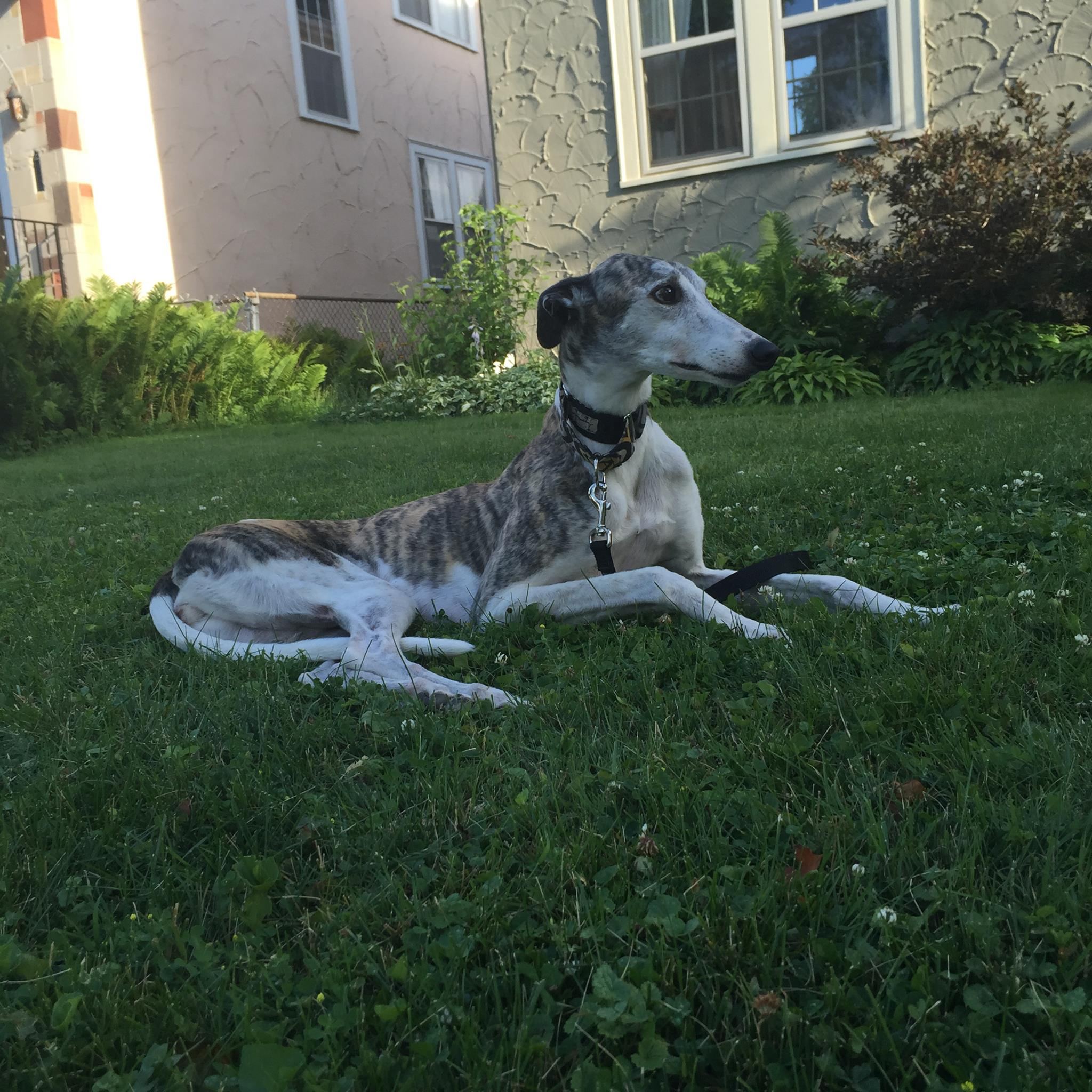 An online campaign is seeking to return a rescued greyhound to the family who adopted her.
Anthony Desnick and Ulla Tervo-Desnick took to Facebook on Saturday after their greyhound, Lucy, was reportedly taken from them by Greyhound Pets of America – Minnesota. The dog was lost for more than day when it fell through a rotted board on under a deck.
After she was found, GPA-MN took the dog because of an adoption agreement which apparently required her to be on a leash at all times.
Here's their post:
We know this post is long but it's an important story in our lives. Please read all of it, contact the appropriate people with your comments, agreement, disgust – whatever you think is right.

In October of 2014, we (Anthony Desnick and Ulla Tervo-Desnick ) adopted Lucy the greyhound from GPA-MN (Greyhound Pets of America – Minnesota). Before coming to us, she had lived a hard working life. She raced – 99 races – and was a brood mom bringing 23 puppies into the world in three litters. Lucy adjusted to life with us slowly. She developed intestinal problems that cost thousands of dollars and many months to fix. What worked in the end? Acupuncture. She responded well to it and began improving almost immediately.

From the beginning Lucy exhibited some prey drive – common among greyhounds – but as her time with us went on, she left that behind and only wanted to be by my side – on walks and at the off-leash dog park. In fact if we wanted her to run, the only way we could get her to do so was for Ulla to hold her still while I walked up a hundred yards or so. When released, Lucy would run right to me and be by my side once again.

She got a ton of love from our whole family and from her best friend, Larry David, the Pug. And in this environment she thrived.

I (Anthony) worked in a bike friendly environment so Lucy came with me to work aboard a bike I bought specifically for that purpose.

And this is how it went for almost two years until the weekend of August 5, 6, and 7, when we were at a cabin.

While we were preparing her evening meal on Friday, Lucy disappeared from sight. We started to look for her right away on foot, bike, and ATV, and neighbors soon joined us. At sundown, we had to abandon the search and hope for the best. The next morning, we alerted the Sheriff, Greyhound Pets of America (GPA), the local dog catcher, the Lost Dogs website, and posted it on Facebook.

To our relief, a GPA search party of at least four people and several greyhounds, lead by Shawn Yardley, soon arrived and together with us, started to comb the surrounding area. We posted over a hundred Lost Dog posters with Lucy's picture on them around the area, and kept searching throughout the day. After the search and unbeknownst to us, our GPA "friends" had visited the emergency vet in Duluth and based on what the vet ultimately told us, told stories about us, and apparently not in a very a complimentary way.

The day's search was unsuccessful, and we had to abandon it for the night. The same routine was repeated on Sunday, with Shawn and her team of volunteer searchers joining us. By Sunday afternoon, we were feeling hopeless about ever finding Lucy. We knew from reading about searches of lost dogs that at this point we could only hope for a random reported sighting Lucy in the area and follow that lead. There had been no sightings.

The owners stayed at the cabin and promised to continue the search. As we were driving away in silence and with heavy hearts, we got a call from the cabin: Lucy had been found! We high fived, cried, and screamed out of joy that she was alive. We shared the news with GPA right away.

By sheer luck and the grace of a power greater than us, the owner of the cabin had heard Lucy whimper, crawled under the deck, and discovered a hole she did not know existed. That's where she found Lucy. The wooden cover over the hole had rotted and given away under Lucy's weight. There were people just feet from her all weekend but she had not made a sound! Our heard sank as the horror and absurdity of this sank in. She had ventured about 12 feet away after all.

We called Shawn to tell her that Lucy had been found and said that we would take her to our vet clinic at the U of MN – one of the best in the world. Shawn insisted we take her to Duluth, where she said there was an emergency vet waiting for her. With the understanding that two fewer hours of travel for Lucy might be better for her, we agreed. So we quickly took her to the emergency vet in Duluth. As we pulled into the parking lot, our GPA "friends", four of them, again led by Shawn, were waiting for us. The clinic staff brought Lucy in and to assess the situation. The GPA volunteers came into exam room, with no respect for our privacy. We wanted them out, but in our distressed state of mind, let them stay. The vet was annoyed by the large crowd: "It's hard to see what's going on with so many people here". Ulla had to leave the room to elevate her foot since she was recovering from foot surgery. As she tried to return to the room, GPA folks had filled it up, leaving her no room to enter. The vet said to us, "Did you know that they (GPA folks) came to talk about you yesterday? I want to hear from you what happened." After we told him the story, he said, "Now we know what the real story is – the story they (GPA) told was very different." Lucy needed fluids, antibiotics and painkillers for a swollen foot and needed to stay for the night.

Based on Shawn telling us that she was willing to pick up Lucy in the morning, if she was well enough to leave the vet, we paid the bill ($1,100) and headed home to St. Paul, making arrangements to pick Lucy up the next day.

Lucy had a good night and was ready to go home in the morning. Ulla made arrangements to meet with Shawn and Lucy in Hinckley at 1:00 p.m. At 11:00 a.m., Tony got a call from Curt Carter, the president of GPA, informing us that Lucy was to be taken from us since she was not on a leash and was injured as a result. We contacted our lawyer right away. Since we had signed an adoption agreement that Lucy was to be on leash at all times unless at a fenced in dog park, we were clearly in the wrong. Family and friends volunteered to write letters attesting to our diligent and caring dog ownership (letters will be publish here), but we were clearly in the wrong. We had broken their rules. Curt kept saying this wasn't personal. NO, IT IS VERY PERSONAL TO REMOVE ONE'S FAMILY MEMBER.

We appeared in front of the GPA –MN board Wednesday evening, accepting the fact that we had made a grave mistake and asking the board to trust us with Lucy's care in the future. From the tone of Curt Carter at the meeting, we knew from early on that the issue had already been decided and that Lucy would not be coming home to us. We felt powerless, as if we were standing in front of a war crimes tribunal. Curt tried to assure us again that is wasn't personal but we feel it is very very personal – for us and for Lucy who had been our companion for almost two years. While we understand that we broke GPA's rules, and that Lucy would not have gotten lost had she been on a leash, it is totally unreasonable to take her away and to now place her with another stranger.

While we are overjoyed that Lucy is well, we are grieving for the loss of a beloved pet and friend. Not in our wildest dreams could we have imagined that she would be taken away from us. The way that GPA treated us – acting like they were there to help us, assisting us in our search, convincing us to bring Lucy to Duluth after she had been found, agreeing to pick her up the next day and deliver her to us – and then taking her away from us and never giving us an opportunity to even discuss it with them – we felt like they were a wolf in sheep's clothing and their practices in Lucy's search were deceitful and disrespectful to us as Lucy's owners. Looking back on the whole chain of events, we cannot help but thinking that GPA knew early on that they would take her from us if she was found and yet they NEVER even suggested they might do this! Had we not been so distressed, exhausted, and heartbroken, we might have seen them for who they turned out to be. We surely would never have turned over her care to them in Duluth.

We see GPA as a group of people eager to pass judgment and use the power that they have. We think that their conduct had nothing to do with justice or what's best for the dog. They did not interact with us in an honest and respectful way. They did not even give us the opportunity to say goodbye to Lucy. Perhaps their adoption agreement ultimately gave them the right to take Lucy away from us, but they did not have the right to treat us, the owners of Lucy, poorly. We feel cheated and wronged.

As for Lucy, no one will ever convince us that it was in her best interest to place her up for adoption again. We loved her; we were her people. We made a mistake we will regret for life and one we would never have done again. How are we any different than any stranger? Is there no compassion for human error? Lucy would be happy to be at home with us right now.
So what next? We have provided contact information below – home mailing addresses, phone numbers etc. Contact GPA and tell them what you think. Share this with everyone you know. And above all else, tell everyone you know there are other adoption services in Minnesota that care not only about the dogs but the people who adopt them.

Get in touch. Let us and the GPA Board know what you think:
Kate Nyquist, who has adopted two greyhounds, said in a post that the organization has punished the family for one mistake while ignoring the "love and care they provide every day" to the dog.
You must know that this could have happened to any family with any hound, right? That even the most diligent leash users amongst us can have a wily, excited greyhound slip out of a car door, an open gate, or a dropped leash. I actually don't think Lucy's situation would have been so different if she were on a leash or in a fenced yard—she probably still would have fallen through the hole in the decking. Our current hound, Obi, slipped out of an open gate in our fenced yard when a house guest accidentally left it open. We were all there and watching him and yet he still got loose for a few minutes. No one would have thought it logical or just for us to lose him over that, nor is Lucy's removal logical or just.
Curt Carter, president of Greyhound Pets of America – Minnesota said there is another side to the story which he promises in a statement later today.
"Greyhound Pets of America Minnesota is a 501c3 all volunteer non profit Retired Racing Greyhound adoption group that has been in existence for 29 years, adopting over 1,800 Retired Racers in that period. Repossession of an adopted dog is a very serious concern for our organization, it is not taken lightly. The last repossession took place approximately 7 years ago, and there have been only a handful of repossession have taken place in the 29 year history of the organization. The only time we would consider repossession is in the case where we had significant concern for the safety and well-being of the adopted dog. In this instance, the adopters have been granted every opportunity for consideration of their side that they have requested before the final decision was made."
I'll post GPA-MN statement in this space later today.
[Update 4:47 p.m.] – Here's the statement from GPA-MN:
Some of you may have seen recent posts here and in other places regarding the GPA-MN Board of Directors repossession of a Greyhound adopted from our organization. Please consider the facts that you may have read posted by others here or in other formats reflect only one perspective of the situation, representing only one point of view.

GPA-MN does not condone any environment filled with negativity, pessimism or disrespectful actions. GPA-MN has made every effort to carry out the organization's role in a deliberative, respectful manner, free of social media drama or daily public updates as the parties sought to resolve the dispute. Out of respect for the adopter's privacy, their names and contact information, and the identity of the Greyhound in question, will not be mentioned here. Posts and comments by others that do not advance the discussion will be deleted from this page.

Our Conditions of Ownership are primarily written to ensure the ongoing well-being and safety of former racing Greyhounds, a dog that is unique in the canine world, long after the adoption date. These conditions are the body of the two-page Adoption Contract. They are not only a part of the signed contract, but each condition is read to the adopters, and requires the adopters individually initial each Condition of Ownership. The last Condition of Ownership contains a repossession clause, stating the grounds under which repossession may take place.

Repossession is a serious consideration that furthers the objectives of the organization in providing loving, caring homes for these unique animals. The last repossession by GPA-MN was approximately 7 years ago. In its 29-year history, the organization has exercised its right of repossession only a few times in the placement of over 1,800 dogs. Repossession is not considered for accidental, unintentional situations, for example, a dog pulling lose from its collar, getting out through a gate that was accidentally left open, or bolting through a door when people are going through the door. Repossession is considered when a situation exists that threatens the safety and well-being of the Greyhound and is so rarely ever invoked that it cannot be considered arbitrary in this instance.

What we can say about the repossession is this:

The repossession was initiated after GPA-MN Board Members became aware of a pattern of violations of the Conditions of Ownership that created multiple situations during which this senior Greyhound's safety and well-being was put in jeopardy. The information regarding this pattern of behavior was offered by the adopters, their friends and families, in conversations with individuals assisting in the search for the lost dog. These adopters reported that they regularly allowed their Greyhound to run loose (off-leash) in areas that were not fenced in and stated that they believed that their Greyhound was different and not like other former racing dogs. The most recent of these situations resulted in the Greyhound being lost for nearly 2 days on August 5-7, 2016, requiring overnight hospitalization at an Emergency Vet to attend to the effects of dehydration and attempts to free itself from a dry well it had fallen in to.

On Monday, August 8, 2016, the Greyhound was released to GPA-MN's possession from the Emergency Vet. The decision was made not to return the dog to the adopters due to the considerable uncertainty regarding its safety and well-being. This decision was made by a unanimous vote of the Board's 5-member Executive Committee.

On Wednesday, August 10, 2016, the matter was presented to the full 11-member Board of Directors for a final vote. The adopters requested thru their attorney to speak to the Board. They were allowed to fully present their side of the situation in person. They were not subject to any questions, nor asked to defend themselves. The adopters had also asked that 5 letters of reference they had submitted be provided to the Board for additional consideration. Individual copies of the letters were provided for each Board member's consideration prior to the meeting. Presentation of related information from search volunteers and Board Members who had conversations with the adopters, their friends and family, was followed by detailed discussion and deliberation by the Board. Due to the serious nature of the issue before the Board,
extra care was given to ensure that all Board Members had received answers to all of their questions. The final vote on a motion to repossess the Greyhound was 9 Aye votes and 1 Abstention. The President of the organization did not cast a vote as is typical in this circumstance.
Related canines: How Minnesota refuses to save dogs being killed by trappers (City Pages)