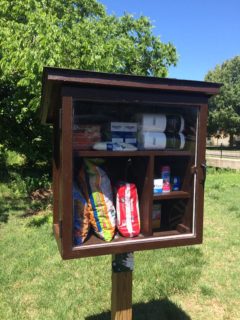 A Rochester area woman is planning to do her part to ease hunger in her area by borrowing the idea of Little Free Libraries and using it for food instead.
The Rochester Post Bulletin says Claire Buss, who works at a Rochester-area hospital, got the idea after meeting with area teachers who told her they have kids who have no idea where their next meal is coming from.
The owner of a construction company is going to help her build the Little Free Pantry near a brewery in town.
"Claire brought the idea to me and just wanted to talk through it," Annie Henderson, co-owner of Forager Brewery, told the paper, "and we thought it was the ideal location to do a prototype, then decide where the next one will be. This one is a test-run to see how much it's used and the sustainability of keeping it filled."
Henderson sees many residents walking or riding bicycles to the nearby Kwik Trip, people who may need to "shop by the meal" as money allows. She hopes the Little Free Pantry will provide them options for things they may not be able to afford, "thing you might not think of: deodorant, tampons, toothpaste. To some people, those are a luxury.

"I thought it was neat that she wanted to do something for those less fortunate, in a different way, an innovative way," Henderson said of her friend. "I thought it would work out well for us to stock it year-round, and ask our staff to help. It's a constant reminder to staff, as well as customers, that we're more fortunate than others, and should be more giving."

Buss would love to see four or five pantries up and running by April, she said, and is looking at areas such as Dwell Local near Cooke Park, Kemp's on Broadway and near Kmart.
Buss says the pantries will be located near businesses rather than in neighborhoods as is the traditional local of little free libraries. There's too much stigma about poverty to put them in neighborhoods,she says.
She also knows there will be critics who's criticize the effort as ineffective, but she says it will at least call their attention to a problem.
"This is something I believe in, and I believe in taking care of people and being compassionate toward those situations," she said. "You don't have to agree with why they can't put food on the table, but I think it's human nature for us to take care of each other."