It was a moment in time captured by a random photographer. Saya Tomioka and her boyfriend, Griffin Madden, shared a kiss in Times Square after they'd emerged from The Book of Mormon.
The photographer showed them the picture and then dashed off.
A random moment became meaningful, however, when the Oakland Ghost Ship fire claimed the life of Madden.
So last week, Tomioka fired off the online version of a Hail Mary pass: She posted on Facebook.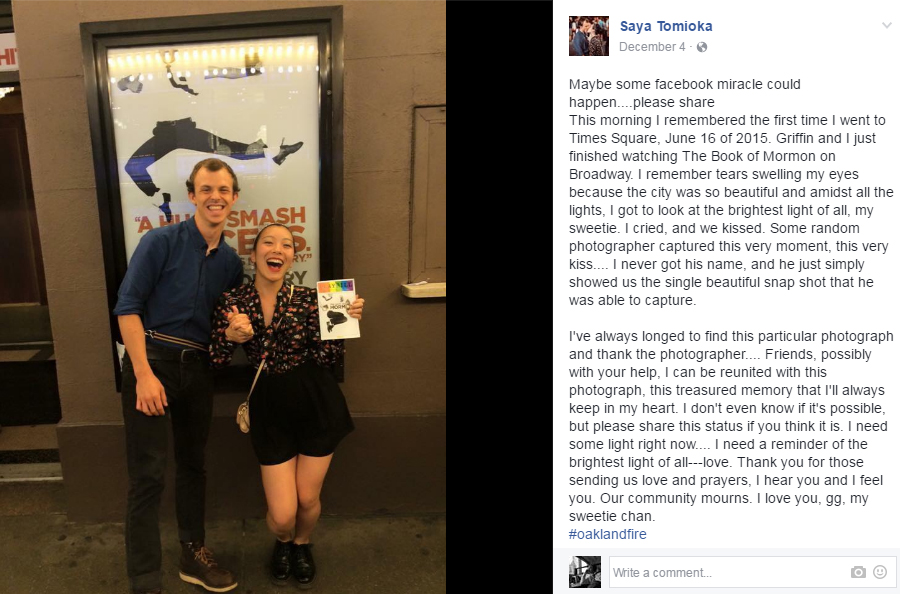 Maybe some facebook miracle could happen….please share
This morning I remembered the first time I went to Times Square, June 16 of 2015. Griffin and I just finished watching The Book of Mormon on Broadway. I remember tears swelling my eyes because the city was so beautiful and amidst all the lights, I got to look at the brightest light of all, my sweetie. I cried, and we kissed. Some random photographer captured this very moment, this very kiss…. I never got his name, and he just simply showed us the single beautiful snap shot that he was able to capture.

I've always longed to find this particular photograph and thank the photographer…. Friends, possibly with your help, I can be reunited with this photograph, this treasured memory that I'll always keep in my heart. I don't even know if it's possible, but please share this status if you think it is. I need some light right now…. I need a reminder of the brightest light of all—love. Thank you for those sending us love and prayers, I hear you and I feel you. Our community mourns. I love you, gg, my sweetie chan.
Cue the miracle!
Arken Avan, who posts his images on Instagram under NewYorkFaces, saw her post and reunited the two photographically.
Avan, 28, says he had to sort through 2,000 images before finding the right one.
He said it's good to be part of the effort, but he told ABC News "it doesn't matter when someone's life is gone."
Saya might disagree.