There is an enormous disconnect in this country on the subject of teachers and educators.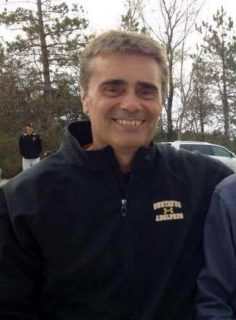 The amount of disrespect shown for the profession can be found in the comments on any post I've ever done on the subject. Educators are a near constant punching bag by people who profess to know how to do the job better, but never bothered to try to prove it.
And yet, back when I did the "You Should Meet" series on NewsCut, which sought to highlight people doing extraordinary things as a matter of routine, the majority of submissions from NewsCut readers involved a teacher or educator.
Tim Christensen died in Luverne, Minn., on Sunday, according to his obituary. He was just 52 and he died at home.
It received no news coverage.
He was a local kid — Luverne High School class of '83 — got married, left the area for a life in business and eventually returned to town and turned to teaching, getting his degree at the age of 32.
He started teaching fourth grade, became a principal and a baseball coach, and became the principal and athletic director at the high school in Adrian, Minn., in 2007.
I never met him, I didn't know him, and some obituaries can leave you wanting more.
People are remembering him on the Luverne Area Chatter Facebook page and it's a reminder of the people who get up in the morning before the sun to go make a difference in your kid's life.
Here's an example from Matt Kruger, who now lives in Portland, Ore.:
I remember Tim's first day teaching science to us in 5th grade at Luverne Elementary school. He was "the cool new teacher that could walk on his hands."

I remember excelling at science and Tim taking special interest in my progression as I was naturally good at it. One time I had a bad week and a lot of stuff going on in my personal life and failed an assignment in his class.

When he handed me the paper, he asked if I was doing okay and if everything was okay. I told him I was fine when I wasn't.. As he walked away I started to tear up, not because I failed the assignment, but because I let Tim down and didn't know how to say it.

The guy was an amazingly smart man, a great teacher, funny, and it's a shame he is gone so soon. My condolences to his family. May God be with all of you. Prayers from Portland Oregon Tim…thank you for shaping this mind and teaching me skills that have lead to great things.
And this…
It was a privilege to work with Tim at AHS. I'm so glad I got to spend a few minutes visiting with him in Dec. before we left Adrian for the winter.

One of the things I got to tell him was how honored I was that he took an hour out of his busy schedule to attend my father's funeral in Oct. That's the kind of guy he was. Little did I ever expect that day would be our final goodbye. RIP Mr. C
His visitation will be tomorrow. There was some concern his son wouldn't make it back from the Peace Corps in China in time, but he arrived yesterday, the Facebook page reported.
In his honor tomorrow, maybe people could stop punching for a day.