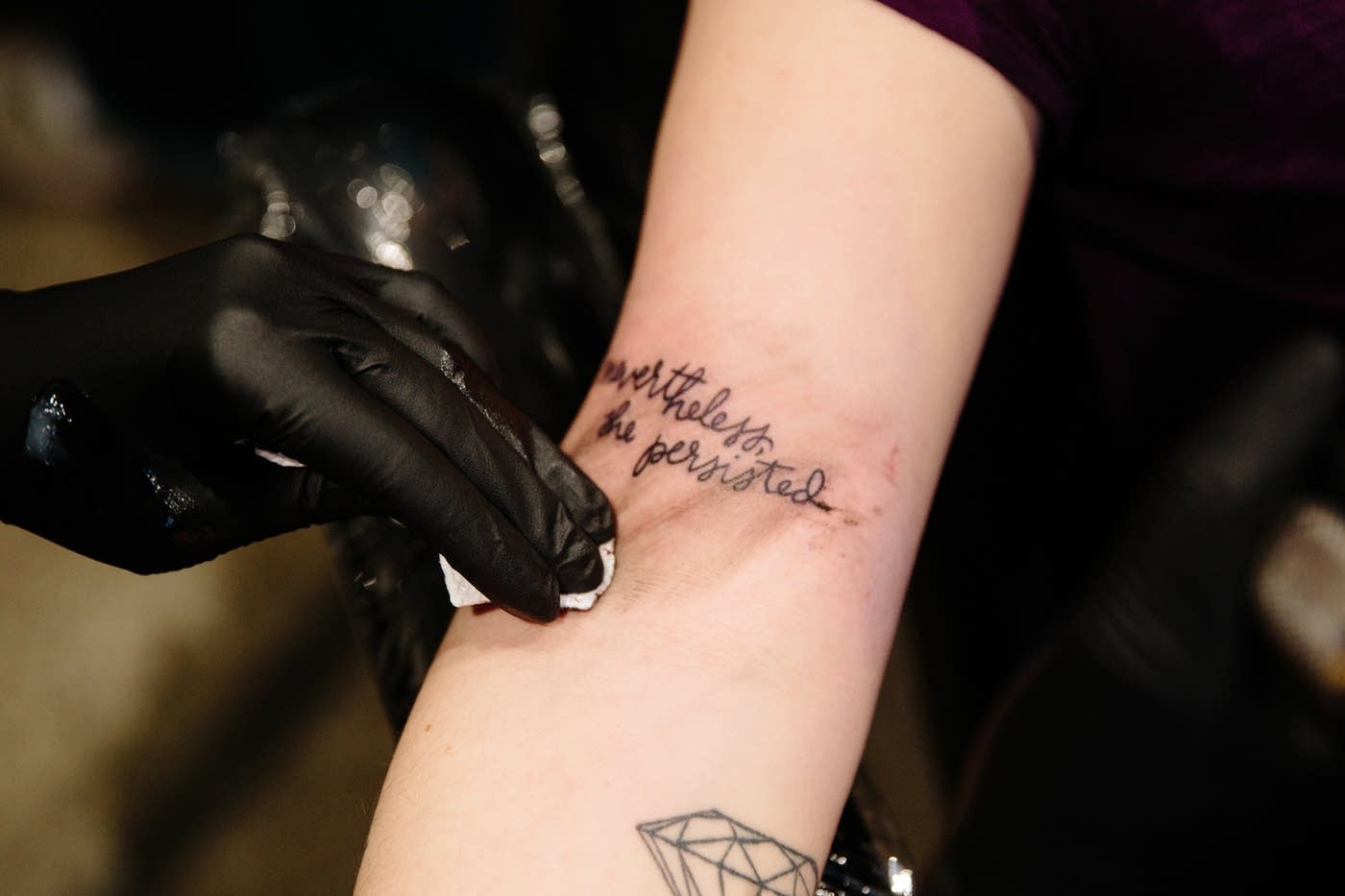 One of the things I love most about peeking into what people are peeking into is how different their choice of stories are from what we otherwise might think they'd be.
There's an appropriate emphasis on the big, weighty stories of the day. But invariably, it's the humanity that attracts a crowd.
That says something about us and says something about the news business; I'm just not sure exactly what.
Here are last months' top 10:
1. 'She persisted': Women pack Mpls. tattoo shop for solidarity in ink
The Brass Knuckle Tattoo Studio in Minneapolis was wall-to-wall with people Tuesday afternoon (2/21), as more than 100 women packed in for appointments. They were all there to get the same tattoo: "Nevertheless she persisted."
2. German shepherd from Wisconsin wins best in show at Westminster
Who's a good page view generator? You are. You're a good page view generator.
3. Snow! Winter's strongest storm takes aim (Updraft)
This might be the first time a German Shepherd in New York beat a story about the weather in Minnesota.
4. Hospitalized Army vet puts ad in paper asking for letters
It was a heartwarming story about James Wiitamak, dying of cancer in a St. Cloud VA hospital, who got plenty of response to his ad in a newspaper asking for some letters. It was also an incredibly sad story about a veteran having to place an ad in a newspaper asking for some letters in his last days.
5. Twin tragedies give survivor a new face at Mayo Clinic
This one belonged to the Associated Press, which reported on Andy Sandness, who underwent one of the most rare surgeries in the world. How he came to need one didn't get near enough attention: He tried to blow his brains out. Preventing suicide is a breakthrough we're still hoping to read about.
6. Trump aide Conway says she misspoke on 'massacre'
Somewhere in the updating of the story, the headline got changed from its original "Conway cites massacre that didn't happen."
7. Solved: the mystery of Devil's Kettle Falls
The DNR reported that it finally solved the mystery where the river goes at Devil's Kettle when it disappears into the rock? It reenters the river from underground, the DNR said. But it did not solve what is now a bigger mystery: Where's all the junk people have been throwing into Devil's Kettle in a vain attempt to figure out where the water goes?
8. Jury finds Scarsella guilty in Jamar Clark protest shooting
Jurors turned aside arguments by Allen Scarsella's attorney that the 24-year-old Bloomington man shot in self-defense on that Nov. 23, 2015 night as he and other companions were pursued by men attending a demonstration near the 4th Precinct police station.
9. Dangerous passage: Refugees in Minnesota risk death to reach Canada
Humanity? At least on one side of the border, there is. MPR's Dan Gunderson and Laura Yuen tracked refugees from the United States, seeking the freedom of Canada.
10. U.S. judge temporarily blocks Trump's travel ban nationwide
My guess would have been that this would be selected as the #1 likely story if you'd asked most people. Most people said it's #10.