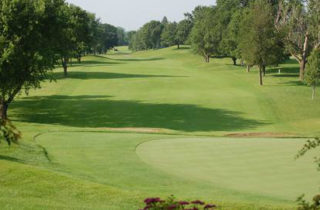 Golf's decline is illustrated this week with word that two urban golf courses are on death's doorstep.
The Minneapolis Parks Board will vote next month on a plan that to close the Hiawatha golf course because of continuing costs of pumping groundwater will likely curtail 18-hole golf at Hiawatha Golf Course.
And the Pioneer Press reports today that the private Hillcrest Golf Club on St. Paul's East Side will be history at the end of October.
Coincidentally, both courses have a long history that includes opening the game to people previously shut out. Hiawatha was one of the first to allow people of color on the course; Hillcrest allowed Jews to become members.
But golf occurs on valuable real estate and people have stopped playing a game which no longer fits the lifestyle of a busy society. And it's expensive, too expensive to attract many new players to replace the aging crowd that dominates a course these days.
Nationwide, the number of golfers age 18 to 34 has declined 30 percent over 20 years.
Between 1995 and 2005, nearly 5,000 golf courses opened; since then, under 500 have been created.
The PiPress notes that Hillcrest, located at Larpenteur Avenue and McKnight Road, is in a predominantly working- and middle-class area, not exactly in golf's demographic. It's a bit ironic that the course is owned by a pipefitters union, which bought it out of bankruptcy.
But lowering dues to $425 a month couldn't attract a new clientele, the PiPress said.
Hillcrest will probably become houses.