And now, we've lost Sun Country Airlines to the no-frills world of packing them in like sardines and charging them for it.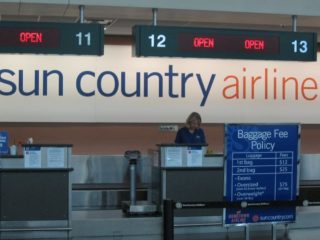 One can hardly blame the airline for the decision, reported by the Star Tribune today, to follow the path of the cheap airlines that advertise low fares and then add fees for every "frill" the customer wants. Frills like overhead bin space, and the option to carry on luggage. And leg room. The airline is planning to put more seats in its planes.
Who can we blame for this? The airline passengers who made successes out of airlines like Frontier and Spirit, two of the airlines that pioneered no-frill flying. They're cheap, but you don't hear a lot of stories about it being all that pleasant.
The airline is also going to try to jettison older workers, the Star Tribune reports.
It's doing so in a "if you don't like it, leave" message.
The company is offering buyouts to senior employees, particularly flight attendants or nonunion full-time employees with more than ten years experience. The buyouts were framed as a way to give "long-tenured employees an opportunity to leave Sun Country if those individuals were not on board with the new vision," according to a memo sent to employees Tuesday night by Dee Powers, the airline's human resources director.

The airline is not offering buyouts to pilots. Sun Country and other U.S. airlines are coping with a shortage of pilots.

"The idea is just to buy out older, more expensive workers and replace them with younger, cheaper employees," said Robert Mann, an aviation consultant and former airline executive. In doing so, Sun Country risks losing some of the people who built its service reputation.

"It's a high-touch airline, so the last thing in the world you want to do is cut off the people who bring that level of customer service, which may very well be the ten-plus-year flight attendants," he said.
In his memo to employees, new CEO Jude Bricker said he wants to protect Sun Country's reputation for customer service.
Archive: Sun Country passenger: ' We just want to be treated like human beings' (MPR NewsCut)