If you want to get a sense of the kind of expertise behind the scenes at an airline, take a look at Delta Airlines, which today did what some other airlines didn't want to do: fly into, then out of, San Juan, Puerto Rico, which is about to get hammered by Hurricane Irma.
Jason Rabinowitz, who writes at Airline Reporter, watched and tweeted today as Delta Flight 431, from New York, headed for the storm.
You really want to fly into SJU during a category 5 hurricane, DL431?

Everyone else has turned around. pic.twitter.com/nHdChvYh2Y

— Jason Rabinowitz (@AirlineFlyer) September 6, 2017
You can't even think of doing that unless you have really good dispatchers and forecasters. Delta does, Rabinowitz noted, accurately predicting the conditions would be safe to land, if nothing slowed them down.
Ultimately, it's the pilot's call whether to attempt the landing. Other pilots didn't. This one, obviously, was willing, and trusting of those backstopping the flight from some other location.
But still: it's a hurricane.
It landed in some pretty colors, then bumped up the departure time by 25 minutes, and turning around in 52…
Aaaaaaaand… Landed! #DL431 #Irma https://t.co/XN6E2TcXUN pic.twitter.com/mrqQsaYpre

— Flightradar24 (@flightradar24) September 6, 2017
… and taking off in a narrow band of calmness, this time as Flight 302.
Here they go! DL302 now taxiing for takeoff before #Irma gets really bad. pic.twitter.com/CNfk5L6oaa

— Jason Rabinowitz (@AirlineFlyer) September 6, 2017
That was around 11 a.m., central time. By 3 p.m., the wind in San Juan had increased to 50 mph and the visibility dropped to a little over a mile.
And there wasn't a plane anywhere near Puerto Rico.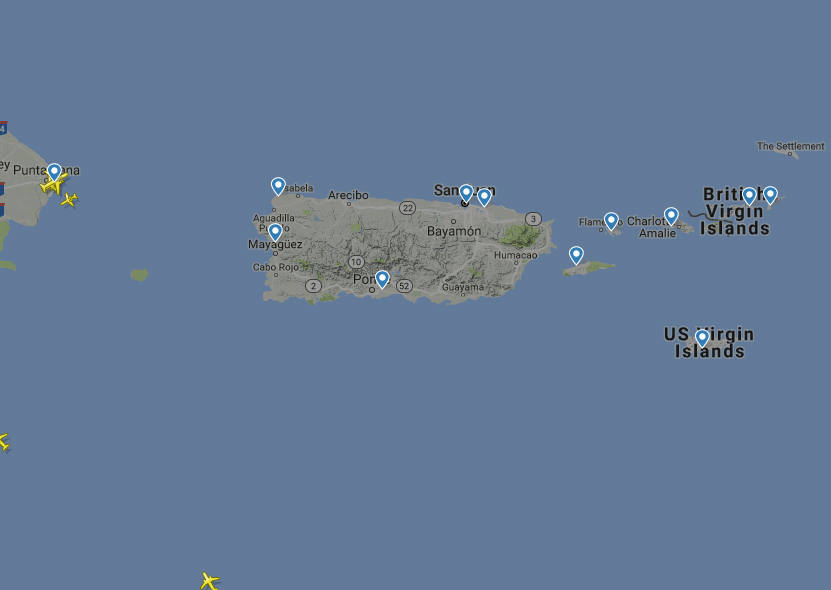 (h/t: Chris Moseley)
[Update]- Chaska couple escapes San Juan on plane that flew into hurricane (Star Tribune)