A little after 3:15 p.m. Tuesday, there wasn't a single Boeing 747 operating over the continental United States flown by a domestic carrier. What few were in the air, shown by this map, were either cargo flights or passenger flights from Asia or Europe on foreign airlines.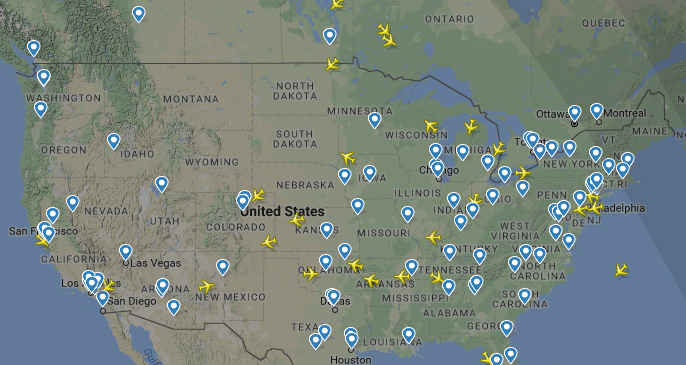 The last regularly scheduled Delta 747 passenger flight made its final stop in Detroit Tuesday morning and, as will be the case Wednesday when a 747 lands at Minneapolis-St. Paul International Airport, fans showed up for the goodbye.
One plane looks pretty much like the other these days. The exception was always the 747 with its hump. Delta absorbed Northwest's 747s when it "merged" with the former hometown airline in 2008.
But they're costly to run and its time is up. Sales of 747s have been slow for years.
Tomorrow, a Delta 747 will make its final visit to Minneapolis. It will take a final "salute lap" around MSP at low altitude. It's scheduled to land at 12:32 p.m. from Atlanta (An earlier 747 flight from Atlanta lands at 7:23 a.m.).
When that plane – N674US — left Paine Field, where 747s were built — this morning, it was filled with Delta and former Northwest employees, several of whom once flew her.
For a few weeks, Delta will use the plane to chauffeur NFL teams around the country.
Then they meet an inglorious end in an Arizona "boneyard" where they'll be stripped for parts and left to rot.