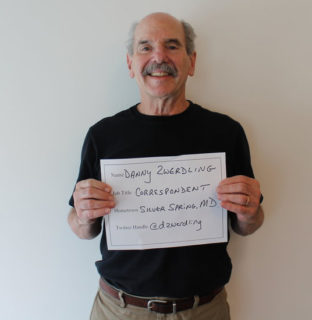 Another well-known public radio veteran has left NPR amid an investigation into allegations from female employees of the network.
Daniel Zwerdling, NPR's investigative reporter (he also once collaborated with American Public Media's American RadioWorks), says he retired in January and that unspecified allegations by NPR against him are untrue, the industry trade publication Current reported Tuesday.
Six current and former NPR interns and staffers told Current that they had been subject to harassment or inappropriate behavior from Zwerdling. Most were interns or young producers at the time. One of the women who reported Zwerdling to HR said he tried to kiss her. Three said they had witnessed inappropriate behavior.

Staffers who experienced or witnessed Zwerdling's behavior did not want to be identified for fear of retribution.

Sources characterized Zwerdling's alleged harassment as unwanted kisses and touching, and conversations that he steered into personal territory. Mid-career women and former interns told Current of incidents that date as far back as the mid-90s, and as recently as last year.

None of the women filed complaints with NPR at the time of the alleged misbehavior. Most sources described a pattern of Zwerdling taking interest in younger women, including junior staffers and interns, who are hungry for career advice.
The investigation reportedly started after NPR's management invited employees, particularly female employees, to step forward after the network's executives were  lambasted for not acting — or not acting immediately — on complaints of sexual misconduct against two newsroom executives, both of whom have left NPR.
"When the movement started sweeping across the nation recently to expose sexual harassers and predators, I applauded it. I still do," Zwerdling said in his statement to Current. "The current national reckoning regarding sexual harassment is a momentous opportunity for America to make itself a better, safer and more equitable country. Yet as many have already observed, there are also perhaps predictable and troubling collateral casualties along the way. The allegations against me are one of those instances."
"I felt like all of the women who talk about this stuff — frozen and also ashamed — and in those moments dozens of emotions come crashing down," an unidentified woman said of an encounter with Zwerdling when she was an intern. "But you're supposedly in a professional setting so you have to keep your wits about you and the decorum has to stay professional. So you brush it off, and you hope that it was just a weird mistake or something from … his generation that doesn't mean anything so you shouldn't pay attention to it."
NPR isn't saying what the allegations are because to do so would identify the women, who, like many others, fear retaliation if their identities are known.
Kryssy Pease, an American Public Media employee and former MPR News producer, had no such reservations Tuesday when she saw the article in Current.
So I guess this is my #MeToo moment. It was 11 years ago for me, and damn if you think you've come to terms with it, just wait til you read that of course he did it to others. https://t.co/wywBee3CvF

— Kryssy Pease (@kryssypease) February 6, 2018
Pease, who confirmed that she is not one of the women in the article, says the allegations are similar to her encounter with Zwerdling in Phoenix in 2007.
I was in college, working for IRE [Investigative Reporters and Editors], and he was getting one of the main awards we gave out.

Knowing I was interested in working at NPR, I introduced myself to him at the beginning of the conference. He gave me his card and we exchanged numbers. I even called my dad, excited that someone whose name he would recognize was interested in talking to me, a nobody 22-year-old, about journalism.

We would wave to each other as sessions got out and people mingled in the hotel. One night at a reception, he said, "This room is really loud, let's talk somewhere more quiet." No alarm bells are going off for me at all. We sit at the hotel bar, then he suggests walking around the hotel grounds. Still seemed fine to me.

The Biltmore Hotel has an odd setup, and there are stand-alone bungalows or whatever along the ground, and he was staying in one of them. We stop in front of his. There are details I'm not comfortable with sharing, but he was highly inappropriate.

I leave, and he started to text me, the most egregious one coming the next morning, saying, from memory, "You should be ashamed of yourself. I didn't sleep at all because I was thinking about you." It got so bad that I told him that I would never say a word to anyone about what happened as long as he left me the hell alone. If not, I'm getting superiors involved.

He didn't stop, I had to tell my bosses, and it was horrifically embarrassing. They talked to him, he stopped. I had to call my dad, crying, telling him how this turned out. He just sighed and said, "I'm sorry, Sweets. I was afraid this was what was going to happen."

He [Pease's father] actually texted me a couple weeks ago, asking if he'd been caught up in the Me Too Movement yet. I said no. Today, I sent him that article and said "his time is up."
We asked Current to forward Pease's story to Zwerdling for comment. We have not heard from him.
"I think with all of these sorts of power-play, mentor-mentee stories that have come out, the thing that makes everyone sad on the woman's side is we feel that we were there to do something good for ourselves and our career," one of the unnamed women told Current. "But at the end of the day, we were there to possibly be a fun dalliance for an older man who has no business bringing this into the professional sphere."
Why didn't she report it? "It was still 2013. Who was going to believe me?" she said.
She described it as "very NPR style predation."
Pease says she, too, has kept quiet and might have continued, too, if Zwerdling hadn't said the accusations aren't true.
"I want him to look at me and tell me my story isn't true," she said.