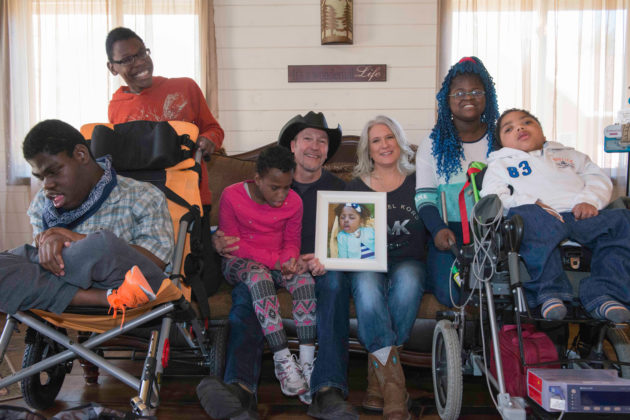 Solway, Minn., just west of Bemidji, has a population of 95 people and two apparent angels, judging by the story today in the Bemidji Pioneer about Kent and Shantel Dudley, who have adopted children no one else would.
"We went to Florida and there was just this little boy lying on a mat," Shantel said about their first adoption. "We decided we couldn't walk away from him. After that, our phone began to ring, and it was one medical child after another."
Six in all.
Throughout the home there are medical devices that the children need. There is medical assistance needed around the clock.
Between their biological and adopted children, Kent and Shantel have 15 children, not counting the two who passed away in a single year. One of their older daughters helps as a medical assistant for their adopted children with special needs.

The first adopted child, Travis, is now 16, although still mostly bound to his bed. The family has a track system that snakes along the ceiling, allowing Travis to be suspended in a special chair and pushed from room to room.

More than one of their children have feeding tubes. Kent and Shantel knew they were venturing into a whole new realm when they were asked to take a child with a breathing tube, but they kept saying "yes."

The couple wouldn't have been able to imagine when they first started adopting what their life would look like more than a decade down the road. Admitting they probably wouldn't have been able to handle it, Kent says that's why God only gives you a little piece of the pie at a time.
After adopting four children with special needs, they said "no" to a fifth. But then one of their adopted daughters said, "What if you had said 'no' to me?"
They adopted the fifth. Then a sixth.
They spend much of their time with hospital visits.
"We always remind ourselves, 'the kids are worth it, and we chose this life,'" Shantel said.

In spite of all the activity, they try to give their children as much of a normal life possible. Some of them go to school. They attend camp and go to the zoo.

"The kids get to know what it's like to be a child, and not to be a medical child," Shantel said. "That's important."
They are planning to lobby legislators to help provide more medical training for foster parents who take care of medically fragile children.