I learned my lesson trying to get into Breckenridge, Minn., back in 2009 while on my way to cover the flooding there and along the Red River. It was just a little bit of water across the road. Surely I'd be able to make it through.
And I did, even though I had a sense that the car felt a little "lighter" than usual.
It's unlikely any of the drivers on Interstate 90 near Luverne, Minn., had never heard the warnings about not driving through standing water. But the Facebook group Luverne Area Chatter's images show many people making the same mistake I did.
The plan to get somewhere is a powerful force. It can make you do things you know you shouldn't do. But we do them anyway. Sometimes you get lucky. Sometimes you don't.
Authorities have since closed I-90 in that area, which has had about 7 inches of rain.
Luverne Area Chatter has some quite impressive videos.
Definitely sketchy getting here. Gravel roads are saturated. This is a video of the water that is flooding over Interstate 90. Not opening any time soon, I'm afraid. Not with more rain coming down (4/10 already today) and floodwaters still coming South from Pipestone County.Had to do the Austin Powers turn around maneuver…. :)When you go West on I-90 they will divert you North at the Exit. Traffic is backed up more than a mile. Be patient. Don't go to Sioux Falls if you don't have to. Take 16 instead? Nope!!! Closed. They will divert you North to high ground and back around on Hwy 23.The road North of Beaver (the video with the cool vortex) is still dry…for now.Facebook thinks I've been hacked I'm posting so many videos. Ooops.

Posted by Luverne Area Chatter on Thursday, June 21, 2018
The flooding is similar to what happened in mid-June 2014, when a woman tried to drive through standing water on I-90. Her car stalled, and started to fill with water up to the stop of the driver's seat. She crawled out a window and into the arms of a state trooper, just before the car was swept into a ditch where it overturned.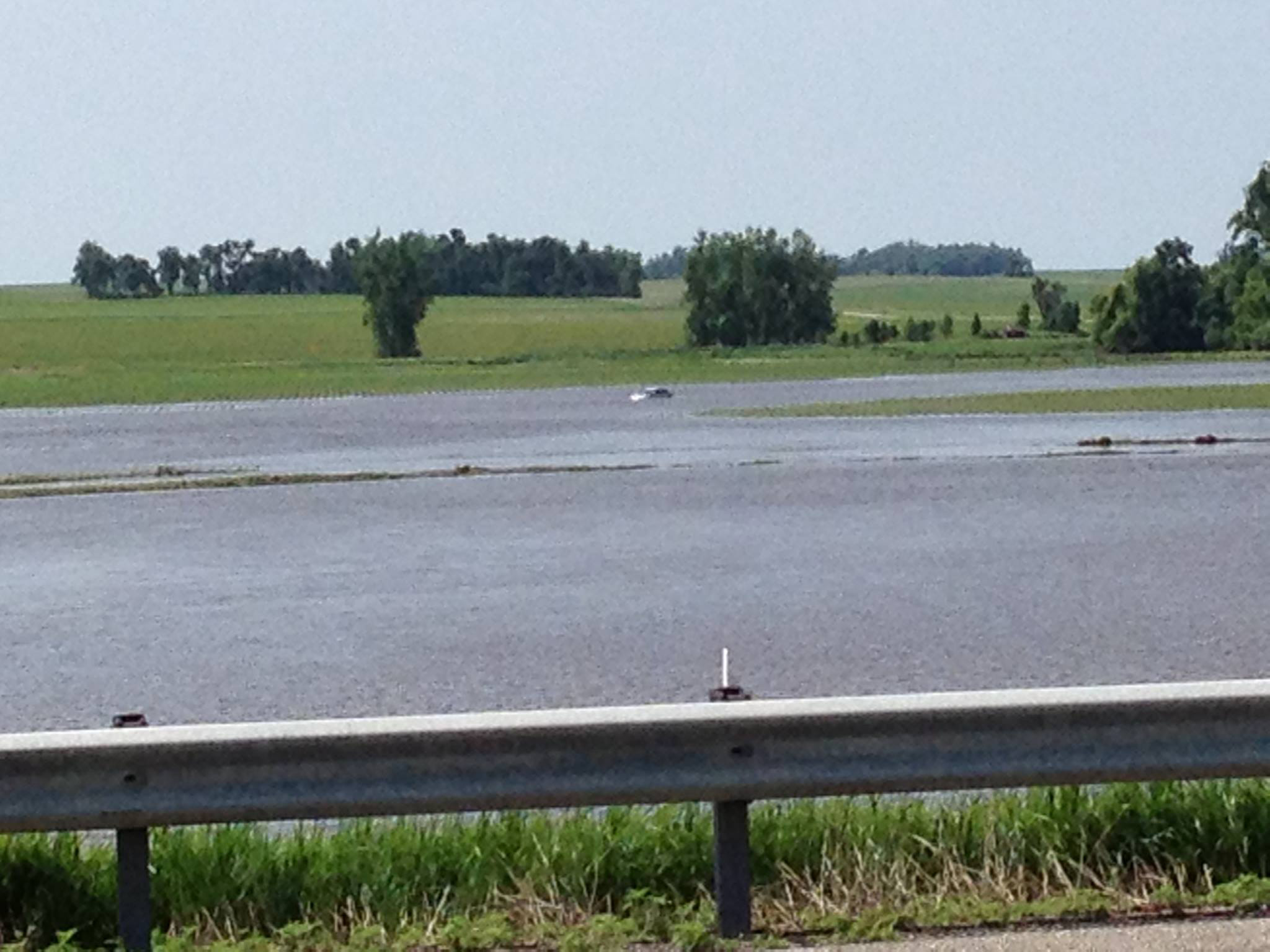 The trooper and victim couldn't escape, however. The currents were too strong for a DNR boat to reach them. Finally, firefighters tossed a rope and pulled the two out of the water.
We make decisions to do things because we think we're the only ones who'll suffer the consequences if things go south.
Two kids in St. Paul probably weren't thinking of that big picture today when they were walking close to the water's edge of the Mississippi River. One fell in, the other jumped into save them and both probably would be dead now if not for the people who work the river, who — again — played the part of angels on the water, the Pioneer Press reports.