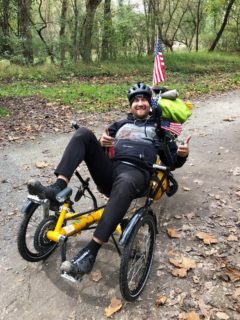 In this space, we often highlight the cross-country efforts that people make, usually on behalf of some charity or to call attention to a cause.
James Dobson, 32, is one of those people, setting out to ride his recumbent bicycle from New Hampshire to San Diego on what he called his "Positive Vibes Tour."
His goal ? Raise money to help kids with cancer.
"I let go of a lot of things I don't need," he told his hometown newspaper about how he can take time off to ride across country. "I have a phone bill and a storage unit. That's why I can do it because I don't have a lot of expenses."
He will have no more daily updates.
He was struck and killed by a driver in Mississippi on Tuesday.