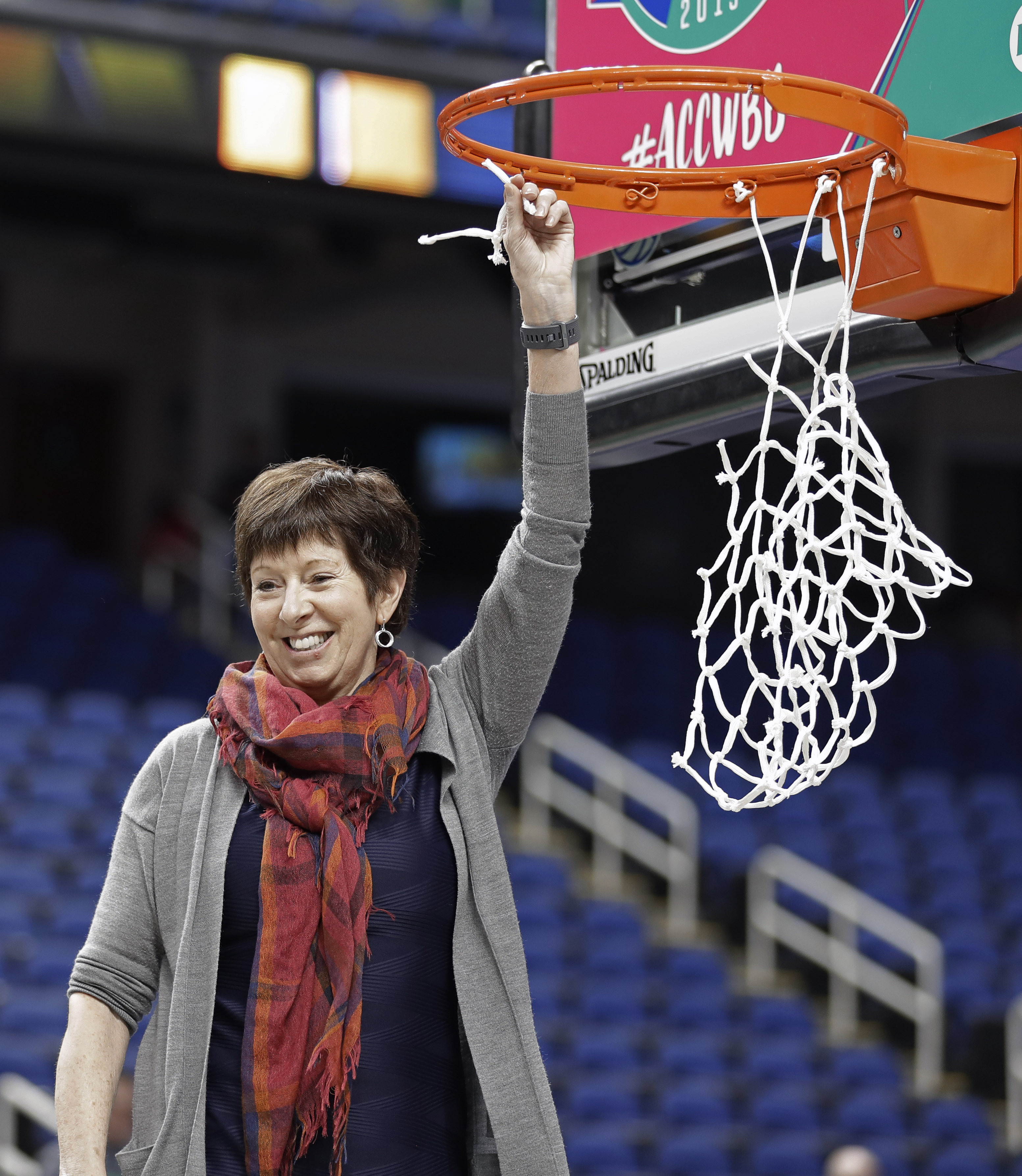 We're knee deep in Final Four NCAA men's basketball coverage here in Minnesota and most every story is the usual dull wallpaper of sporting event preview stories.
For the true role that college sports can play in society, and an actual intellectual exercise, you'll have to go to Tampa, Fla., where the women's Final Four is being played starting this evening.
That's where Muffet McGraw, the Notre Dame coach, got her share of stupid questions from sportswriters — mostly men — who make a career out of asking stupid questions.
Here's one somebody actually asked: would she and UConn coach Geno Auriemma be friends — or even married — if they weren't rivals?
"I could see us being friends, but I could not see us being married. So the answer is no, if he's proposing," she replied.
To his credit, Auriemma later gave sportswriters the "what for?"
It's not a question any of the fellas in Minneapolis this weekend would be asked. Said Auriemma:
You think [Michigan State men's basketball coach] Tom Izzo has to deal with this crap? I don't think so. I don't think [Duke men's basketball coach] Coach K has ever been asked a question like that at the Final Four. I don't think [former North Carolina men's basketball coach] Dean Smith or anybody else has ever been asked a question like that.

I appreciate you asking it, Charlie, but I think that the issue around women's basketball, to me, that I find a little bit disconcerting is the attention is always taken away from the game and the players and it's turned on to the personalities involved, of the coaches.

And especially, God forbid, if one coach is a man and the other coach is a woman, then there always has to be some kind friction, tension and all that other stuff. And I wouldn't marry me either, so what's the big deal? And I know me better than anybody else knows me.

I think its crazy. It's like when you watch a game on TV, a women's basketball game, they talk more about the shoes that the coach is wearing. Who gives a damn. Come on. Let's get over that. We want to be taken seriously, let's talk about sports, let's talk about the game. Let's not talk about the other nonsense that's on TMZ.

We want to be taken seriously, let's act seriously.
Fortunately, at her news conference, somebody asked McGraw, who hires only women on her coaching staff, a good question.
And McGraw told the reporters something that scares and angers a lot of men in America and consistently hurts their feelings.
She told them the truth.
"I just come at it from a different standpoint," Auriemma, whose team will play McGraw's tonight, said on Thursday at his news conference. "I just like to think that there's probably a way to do one without the expense of another."
Is there? How's that been working out?