1) TALKING IS CHEAP; WALKING TAKES MONEY
When Republicans shut down the government last fall, denying paychecks to federal employees, many congresspeople promised to donate their salary during the shutdown to charity. How'd that work out?
At least 116 of the 244 lawmakers who pledged to return part of their pay have done so, giving to either charity or returning their money to the government to help pay down the federal deficit as of Thursday evening, according to an analysis by The Washington Post.
The Post asked each of the legislators what happened to their promise because they don't have to report charitable contributions officially. The list of those who returned it to the government is due out today.
The largest donation came from Sen. John Hoeven , R-N.D., who split the money between the Wounded Warrior Project and the North Dakota National Guard Foundation. Sen. Heidi Heitkamp, D-N.D., a breast cancer survivor, donated about $2,000 to a breast cancer awareness group called Beer for Boobs, according to the Post.
In Minnesota, Rep. Rick Nolan gave $6,210 to conservation groups. Rep. Tim Walz gave $4,184 to two food shelves in his district. Sen. Al Franken gave $5,027 to Second Harvest. Sen. Amy Klobuchar gave the same amount to the Foundation of the National Institutes of Health.
"I have never seen or heard of this kind of mass refund," said Craig Holman of Public Citizen, a nonpartisan congressional watchdog group.
Rep. Michele Bachmann was one of those who promised to give her pay back. She did not respond to the Post's request.
2) HERB BERGSON'S BATTLE
Former Duluth Mayor Herb Bergson has opened up about his battle with anxiety and alcoholism. Bergson left office not long after three DUIs. "I started learning that beer worked just as good as drugs," he says in the interview to a broadcast journalism class at the University of Wisconsin-Superior.
He said he started getting anxiety attacks about 10 years ago when he suddenly couldn't sign his name. He didn't start drinking "real heavy," he said, until after he was attacked in New Orleans.
"I used to love making people angry," he said. "The media loved me."
Listen to the entire interview here.
3) THAT'S WHY THEY CALL IT AN ICE HOUSE
You won't be seeing much of your ice-fishing pals over the next few days. They've got a problem. The Department of Natural Resources requires them to remove their ice houses from lakes in much of Minnesota by Monday, but the ice houses don't want to leave, WCCO reports. They're stuck in the snow and ice.
4) MAYBE, IT'S NOT ALWAYS ABOUT US
Haley Morris-Cafiero's project may end up sparking a larger, more productive conversation than she may have originally intended. Morris-Cafiero is a photographer with a weight problem. She started taking photographs of people reacting to her, presumably because of her appearance.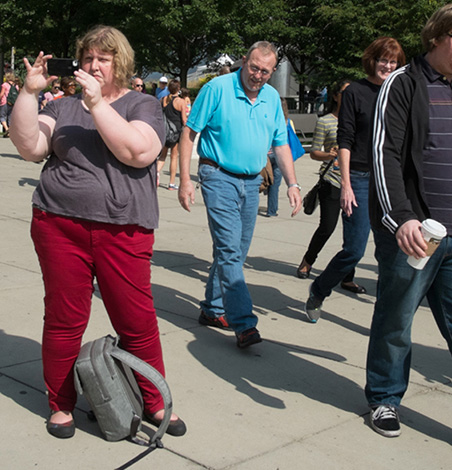 She shared them earlier this week in an article she penned on Salon.
That doesn't mean the world is comfortable with how I look. Even though I'm a college professor, who works 12-hour days and eats healthy, even though I have none of the diseases constantly reported in the media as linked to obesity, I'm up against quite a few stereotypes as an overweight blond female artist. I'm constantly fighting strangers' criticisms that I am lazy and slow-witted, or that I am an overly emotional slob.

I suspect that if I confronted these narrow-minded people, my words would have no effect. So, rather than using the attackers' actions to beat myself up, I just prove them wrong. The camera gave me my voice.
But sociologist Dr. Lisa Wade questioned whether the photos are legit. Maybe, she writes, people were reacting to something else and weren't that interested in the photographer. Still, she says, the exercise may serve a larger illustrative purpose.
Yet, because she carries a body that she knows is disdained by many, it is perfectly reasonable for her to feel like every grimace, look of disgust, laugh, shared whisper, and instance of teasing is a negative reaction to her body. In fact, this is how many fat people experience being in public; whether they're right about the intent 100% of the time is irrelevant to their lived experience.

And this is how people of color, people who speak English as a second language, disabled people and others who are marginalized live, too. Was that person rude because I speak with an accent? Did that person say there was no vacancies in the apartment because I'm black? Was I not chosen for the job because I'm in a wheelchair? Privilege is being able to assume that the person laughing behind you is laughing at something or someone else, that the scowl on someone's face is because they're having a bad day, and that there must have been a better qualified candidate.

For many members of stigmatized groups, it can be hard not to at least consider the possibility that negative reactions and rejections are related to who they are. Morris-Cafiero's project does a great job of showing what that looks like.
5) THE STATE OF DAFT PUNK
Here's an update to yesterday's post about that map that everyone confused as an indication of every state's favorite artist/band. It wasn't, as I wrote on Wednesday.
Today, the person who created the map with data from streaming music data, posted the map that does indicate every state's favorite band. I'm not entirely sure the news is any better. We are pretty much an island in a sea of Jay-Z.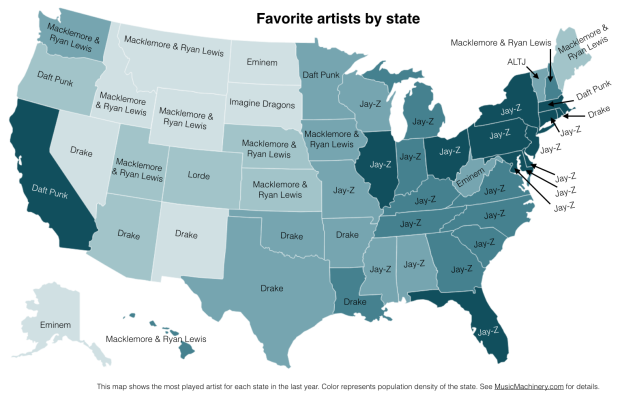 Bonus I: A Lourdes High School senior is beta testing Google Glass and finds people are creeped out by him.. or them. (Rochester Post Bulletin)
Bonus II: Last February, Jen True's brother took his hown life. "My brother didn't have to die. He slipped through the cracks," True, of Mankato, told the Mankato Free Press. When she read the story of a local woman — Heather Sandland — who needed a kidney, she had the same reaction. "And Heather didn't have to die either." So she did something about it.
Bonus III: Your daily dose of cute:
TODAY'S QUESTION
Are you less likely to use car services that lack a taxi license?
WHAT WE'RE DOING
Daily Circuit (9-12 p.m.) – First hour: The Minnesota legislature opened its "un-session" this week. Kerri Miller sits down with a group of political journalists to look ahead to the session.
Second hour: The decline in childhood obesity.
Third hour: Details on the latest Minnesota revenue forecast.
MPR News Presents (12-1 pm) – Cube Critics Oscard preview show: Chris Robert hosts.
Science Friday (1-2 p.m.) – Today's networked teens have been called Facebook-obsessed and distracted. But could the kids be OK? A look at the online lives of teenagers.
All Things Considered (3-6:30 p.m.) – An update on the state revenue forecast.
Bob Mondello and Linda Holmes of NPR preview the Oscars.