First, let's acknowledge that we all have heard the warnings not to drive through standing water. That said, today's various photos provide a great chance to evaluate the worst way to do what you're not supposed to do in the first place.
People blast through, apparently figuring if you go through really fast, all the electrical components under the hood won't know you've just blasted through water. By the time they realize it, you're back on terra firma. Stupid electrons.
As seen in this photo, there is #flooding along W. 50th St. near #Edina City Hall. #mprnews photo by @jeffreythompson pic.twitter.com/rwBzUkClUg

— MPR News (@MPRnews) June 19, 2014
Pretty good form being used here by car 2. The owner of car 3 will be wondering in a couple of weeks what the smell is.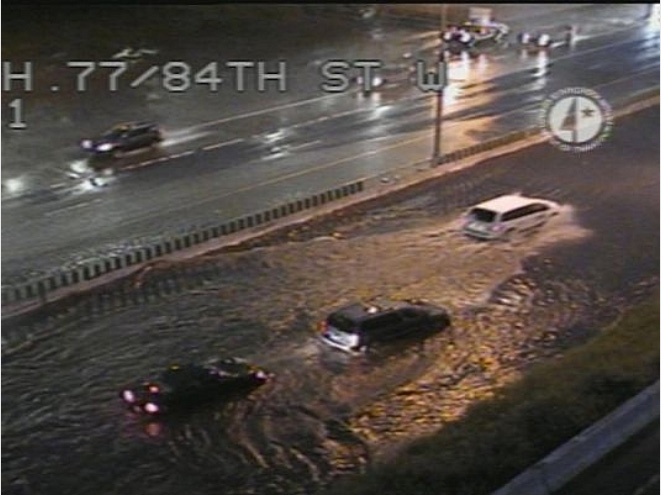 Here's a critical question. If you have a red light, but you're in water, do you stop or keeping going?
Intersection of Minnehaha Pkwy & Cedar Ave. Parkway is closed here but Cedar is not. #Nokomis #NokomisLife pic.twitter.com/X8up9KlNVE

— David Vance (@DavidKARE11) June 19, 2014
Sometimes you make it. Sometimes you don't.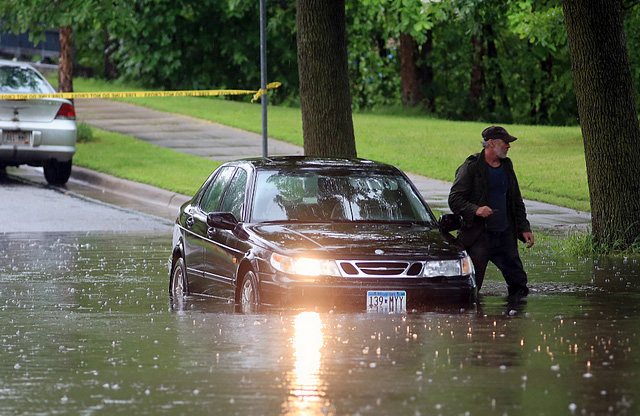 If you're going to drive through water, do the wrong thing the right way. Here's some tips from the Smart Driving website:
It's also worth checking where the air intake is on your engine. If water is sucked into the engine it will stall, but worse than this, it can cause severe damage that will require the engine to be stripped down in order to bring it back to life. Do not try to restart an engine that has sucked in water – the plugs or injectors should first be removed to allow the water to be expelled.

Some four-wheel-drive vehicles are equipped with high level air intakes allowing them to be driven through water several feet deep, however, you can say goodbye to your deep pile carpet and Gucci Sneakers if you attempt this! And as mentioned above – even 4×4 vehicles can be washed away in flowing water. If the water is fast-moving – even 30 centimetres depth of fast-moving water could wash your car off the road.

Where possible flooded roads are best negotiated by one vehicle at a time. wait for approaching vehicles to clear the water before you start to drive through.

Using first or second gear (L or 1 in an automatic) drive slowly to avoid creating a large 'bow wave' (a small wave can be helpful but too much and the water can wash back into the engine). Slipping the clutch and revving the engine will also help to keep the exhaust clear and keep the engine running if water splashes onto the electrics. In an automatic keep your foot on the gas in the lowest held gear and use the brake to control your speed (and hope for the best!).

In some cases a stalled engine can result in water being sucked back through the exhaust into the cylinders – this can cause extensive and expensive damage. Do not change gear because this can also cause water to be sucked back through the exhaust (due to the change in engine speed and manifold depression).

Another potential cause of damage in floods is a cracked catalytic converter ('cat'). The 'cat' is part of the exhaust system and works at high temperatures; if it comes into contact with very cold water there is a possibility that the rapid contraction of the metal could crack the welded sides – OK if you have plenty of money to replace it!

If your wheels start to lose grip partway through a flooded section it could be that the car is trying to float. To counter this, open a door and allow some water into the car, this will weigh it down, enabling the tyres to grip again – it's probably best to get a passenger to do this so that you can continue revving your engine and slipping the clutch.

After driving through a flooded section of road or a ford across a river, test your brakes (whilst still driving slowly) and be prepared to drive them off by touching the brake pedal very lightly with your left foot (practice this on an empty stretch of road next time you go out driving to discover what very lightly means!).
Once through the puddle, you're good to go. Just set aside a little time to figure out how you're going to pay for the new brake rotors, which will probably be warped from the shock cooling.
Also, since the oil pan is the lowest part of the engine, there's a fair chance some water might have seeped in. Wherever you're going, you might want to pull in for an oil change.
Meanwhile, here's the list of highway closings from MnDOT as of mid-morning:
Highways CLOSED include:
• Hwy 19 west of Gaylord
• Hwy 19 east of Henderson
• Hwy 93 south of Henderson
Highways with RESTRICTIONS or water over roadway include:
• Hwy 4 between Sleepy Eye and Fairfax – reduced to one lane w/pilot car
• Hwy 22 north of Gaylord – restricted with water on roadway
• Hwy 112 west of LeCenter – open with water on the roadway
• Hwy 169 SB between St. Peter and LeSueur – use caution – status being monitored
Highways with prior RESTRICTIONS REMOVED – NOW OPEN
• Hwy 13 near Kilkenny
• Hwy 14 west of Springfield
• Hwy 19 west of Henderson
• Hwy 83 north of St. Clair – watch for workers
Update The city of Minneapolis closings:
Cedar Ave at Minnehaha Parkway is flooded and closed. Barricades will be up shortly
Minnehaha Parkway from Longfellow Ave to Bloomington Ave is flooded for vehicles. Barricades will be up shortly.
Minnehaha Parkway is impassable from Pleasant Ave S to Nicollet Ave S. Barricades will be up shortly.
Minnehaha Parkway from Bloomington Ave to 22nd Ave. The bike and walking paths are flooded.
Dean Parkway at West Lake Street is flooded. Barricades will be up shortly.
Lake Harriet Parkway – lower road
Lake Nokomis walking and biking paths – 53rd Street to 22nd Avenue and Cedar Avenue to Derby Avenue
Lake Hiawatha walking and biking paths from Minnehaha Parkway to 44th Street