Sooner or later, some department store buyer is going to learn not to deploy children's clothing that assigns gender roles.
Target is the latest retailer to fall into the minefield with some pajamas.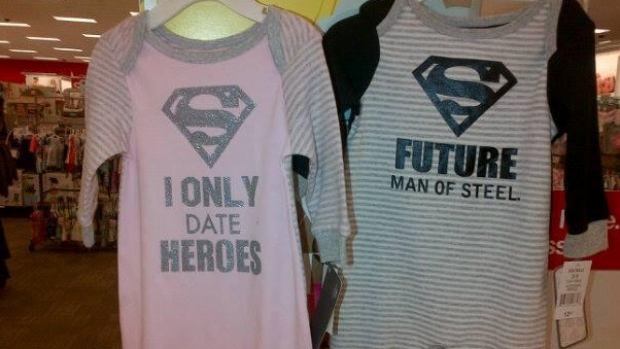 Christine Logel, an assistant professor of social psychology at the University of Waterloo in Ontario, Canada, found the baby "onesies" at a Target store, indicating that boys can be superheroes, and girls can grow up to marry them.
"Sadly, I was not surprised. I have come across things like this before, but I expected better of Target," Logel tells the CBC.
Logel posted the photo on her Facebook page, hoping to attract attention to what she felt was a troubling message. A fellow professor, Aimee Morrison, then offered to tweet the photo in order to galvanize her followers, many of whom share an interest in comics and feminism. Morrison is an English language and literature professor.

"It's the juxtaposition of the two articles that really sort of frames this whole feminist critique that says women are judged powerful by who they date, and men get to be powerful in their own rights," said Morrison.

"We were kind of appalled to see this message being inscribed literally on the bodies of pretty much indistinguishable infants. They're chubby, they're bald, they have giant heads, they drool and they poop in diapers all day. They're not dating anybody, but these messages are so powerful and they start so young that it seemed really noteworthy."
Company spokeswoman Kalynn Crump would not say whether Target would pull the clothing, telling the CBC in an email, "Target strives to treat all our guests with respect, and it is never our intent to offend anyone. We appreciate the feedback we've received and will continue to listen to our guests to ensure we offer merchandise that appeals to, and reflects, our diverse guest population."