Can't picture how far into White House an armed intruder made it? http://t.co/Ka3asaoXdv pic.twitter.com/nh9gwMHnDD @washingtonpost

— Mary Pat Flaherty (@marypatflaherty) September 30, 2014

How on earth did Omar Gonzalez jump a White House fence, dash across the lawn, run through the front door and into the East Room without being stopped? Where were the guards? And why did the Secret Service lie to us? And, while we're on the subject, why was the Secret Service asleep at the switch in a 2011 shooting attack on the White House?
Secret Service Director Julia Pierson said the collapse in security is "unacceptable." You think?
Pierson is testifying this morning before the House Oversight and Government Reform Committee.
Opening statements: Rep. Darrell Issa (R-Calif.) says "with $1.5 billion spent on Secret Service… the United States Secret Service was always considered the elite law enforcement agency. The country has placed great faith and trust in the Secret Service." He said a "history of failures" has blemished the record.
Issa said his opening statement was changed last night after he found out the Secret Service wasn't accurate in describing the intrusion. "Common sense tells us there were a series of failures, not an instance of praiseworthy restraint. The White House is supposed to be one of America's most secure facilities. So how on earth did it happen?"
Issa also cited: engaging prostitutes in Cartagena, agents found drunk outside the president's room in the Netherlands, letting a reality TV star crash a state dinner.
"How much would it cost to lock the front door of the White House?" Issa asked.
Rep. Elijah Cummings, ranking Democrat on the committee, sounding the bipartisan theme, raises questions about the competency of the Secret Service. "Agents in this agency said they were hesitant to raise security concerns with their supervisors," he said.
Cummings notes that some of the information that might answer the questions he has is "classified" and can't be discussed in public.
Rep. Jason Chaffetz, R-OK.: "If the director is going to take full responsibility, your opening statement should talk about leadership." In the last few years, there were few training classes for Secret Service agents. He says the budget for Secret Service didn't go down. "Why did that training diminish?" he asks.
"If they (agents) have to take action that's legal, I will have their back," Chaffetz declared.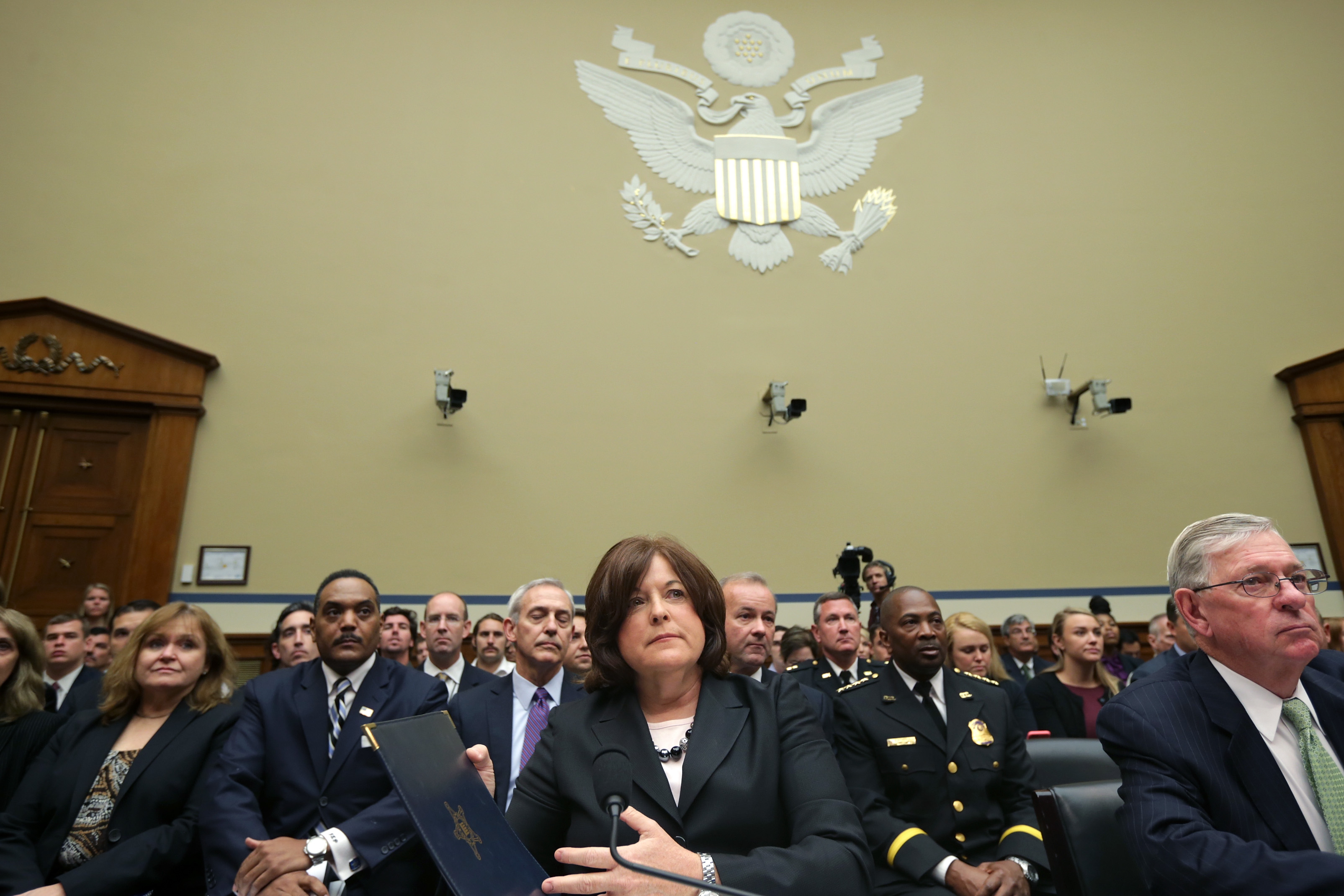 Julia Pierson Opening Statement
"It's clear that our security plan was not properly executed. This is unacceptable and I take full responsibility."
"Much of what we do involves information that is highly classified, so I'll be limited in what I can say."
The Secret Service has apprehended 16 people who have jumped the fence in the last five years, she said. Hundreds have approached the White House perimeter in the last five years verbalizing threats.
"I do not want to get ahead of the investigation that is underway. I intend to lead the Secret Service through these challenges and restore the agency to its excellence."
Ralph Basham – Former Secret Service director
"The incident exposes certain incidents the Secret Service got right, and those we got wrong." But he says it shows other questions such as when lethal force should be used.
"Anyone who has served on protective detail knows decision making with life and death consequences consists of milliseconds."
He says security can't come at the expense of the values the White House symbolizes.
Tode Keil- Former assistant secretary of Department of Homeland Security
Acknowledges that time makes people complacent. Calls for expansion of technology and calls on leadership to "adapt, change, and improve." Blasts the "we've always done it this way" mentality, which appears to throw Pierson under the bus.
QUESTIONS AND ANSWERS
Q: Is there a crash button and had it been pushed would it have locked the front door?
A: No, the mechanism requires an individual to hand lock the door.
Q: $800 million a year, it needs to be hand locked and nobody was standing there, correct?

A: Yes.
Q: Your agency reported he was arrested at entry area. Isn't it true he was arrested near the Green Room?
A: As Mr. Gonzalez entered door, he knocked back officer. They crossed East Entrance Hall together, made left turn down cross hall, stepped momentarily in the East Room, another officer engaged and he was subdued just outside the Green Room. The original report is accurate.
Q: Is it true as reported agents falsely assumed that in the 2011 incident, there were stand-down orders for agents who had already pulled out guns. (Refers to Ortega shooting on 11/11/11) Shot were fired, and the Secret Service director shut down the fact that actual shots were fired.

A: (Pierson) To my knowledge of this three year old investigation in the Washington Post on Sunday, shots were reported by the Secret Service. There were witness accounts of a black vehicle. There was confusion by the witness as to what they saw. Several put out tweets and they were located and they recanted.
Individuals at the White House reported they heard shots. The Secret Service did a protective sweep and there were no injuries. Further investigation by the Park Police… they were unable to determine if the shots were fired at other vehicles or the White House. It wasn't until the usher's office was preparing for the return of the First Family that damage was noticed on the Truman Balcony.
Q: Are you aware of reports that Secret Service agents were reluctant to tell their bosses they wrong that shots were fired at the White House in the 2011 incident?
A: That report troubles me. I intend to talk to the officer and find out why she was reluctant.
Q: She had pulled a shotgun but then the call came over the radio to "stand down." She had told several senior officers she told the House had been hit. But on Saturday she didn't challenge her supervisors for fear of being criticized.That has to concern you.
A: It's unacceptable. Any time in any organization you start to make changes, people will push back. Over the last 18 months… I have met personally with over 1,500 supervisors and employees. I can't speak for what has happened in the past… I will not tolerate personnel missteps when people either fail to act or do not support the workforce or work in unison. I suspect there are many people who are still pushing back.
Q: Do officers have your authority to use lethal force to prevent someone from entering the White House?

A: Yes, when appropriate. They are law-enforcement officers.
Q: If someone is running toward the White House with no apparent weapon, can they take that person down?
A: Those are decisions made by the officer based on the totality of the situation.
Q: Why would the Secret Service put out a press release saying Gonzalez didn't have a weapon?

A: He had a knife in his pocket. I didn't call the Associated Press to correct it. I read the press release before it went out. Based on the totality of the circumstances, these officers used restraint on whether to employ legal force. I do not think the security plan was properly executed.
Q: Has your staff been cut?

A: Because of the sequester, we're down 550 people.
Q: Why not investigate the "shots fired"? (Again, referring to 2011 incident) A housekeeper found damage that your agents did not? Is that true? Did the housekeeper find evidence your agents didn't? Your officers drew their weapons; that's how seriously they took it. Your department was sure it was a vehicle backfiring.
A: The Truman Balcony is not frequented by security personnel.
Housekeepers work in the private residence of the president and First Family.
In downtown areas, there is sound attenuation. I think it's undisputed that there were witnesses that saw shots fired. The Secret Service was engaged with the Park Police to determine where and in what direction the shots were fired. Uniformed division officers heard gunfire and reported gunfire.
Q: The Secret Service earlier had an interview with Mr. Gonzalez because of guns which were found along with a map of Washington? What happened? You didn't take any action.
A: They had a thorough interview as well as contacts with his family and a mental health history as a veteran suffering from PTSD.
It's a very difficult thing for people dealing with mental illness. He denied any interest to harm anyone. He said the map in his car was given to him by another individual who had recommended places in Washington to sightsee.
Q: Have you interviewed the man who gave him the map?

A: No.
Q: Then he was spotted outside the White House with a hatchet. We knew he had a mental illness. What happened them.

A: He indicated he had been camping and he said he would return the hatchet to his vehicle. He was very cooperative. He had camping equipment in his car. He appears to have been living in his car.
Q: You just let him go?

A: Mr. Gonzalez had not violated any law. We determined he could be monitored through his family. He was currently on bond because of the incident with the state police.
It's very difficult when these individuals come to our attention. Many of them are mentally ill. Some are more cooperative than others. Mr. Gonzalez was very cooperative.
Q: There were three different officers who had seen him and recognized him the day the incident happened. Is that true?
A: Two of the officers recognized Mr. Gonzalez in the area of the White House and observed him. He wasn't acting inappropriately nor violating any laws. They didn't report it. They noted it.
Q: When they jump the fence, there should be an understanding. This isn't the nice, cuddly Secret Service. This is a national icon we're talking about here.

A: They didn't properly execute the protocols. Those officers have the authority to take legal law enforcement action. I'm conducting an investigation to find what the facts are.
Q: The distance from the front of the White House where he came in to the Green Room is only about 80 feet. To the American public that's half of a White House floor. That isn't just getting inside the Portico. You keep minimizing this stuff. When does the red flags go up for the Secret Service? This is not their best work. This is disgraceful, and I'm not even going to mention it took four days to figure out someone shot at the White House. I wish to God you protected the White House like you're protecting your reputation here today. This whole thing is the United States Secret Service vs. one individual with mental illness. And you lost. And you had three shots at this guy and he got to the Green Room of the White House. What happens when you have a sophisticated organization going up against the Secret Service? What happens then? You're not taking the protection of the president seriously. (Rep. Stephen Lynch, D-Mass.)
A: The United States Secret Service does not take any of these incidents lightly.
Q: The reaction of the Secret Service on site was profoundly inadequate. I don't sense from you a sense of outrage about that? A sense of mission that you want to reform and correct this cascading set of mistakes.
A: I'm sorry you don't get that sense from me. There is nothing more sacred… than our responsibility for mission success. We don't take it lightly, but we do it under challenging circumstances. There's not a lot we can do about people with mental illness who have not broken a law.
We all our outraged at the Secret Service. It's obvious that mistakes were made. We must identify what the facts are, learn from the facts, enhance training, and make sure this never happens again.
Q: What other actions could have been taken to stop this intruder?
A: Basham: The director has to determine what was going through their mind. They need to have that time. They clearly had the opportunity to take the person down. The individual was interviewed and the agents made the determination as to whether he represented a threat to the president.
Unless he is breaking the law, there is no power that the Secret Service has to take this individual into custody.
The first reaction to kill a person who jumps the fence is not acceptable.
Q: Were protocols followed in this case?
A: No. I don't know why. That's the focus of the investigation.
Q: You're on the job to reestablish the credibility of the Secret Service. If someone wants to do us harm, it behooves all of us to remember you are protecting the most threatened American president in our history. It's a bad time for this to happen.

A: It's never acceptable to have someone breach the White House. I've made it clear to the workforce of my expectations of accountability. In a previous incident, a person climbed the fence and was arrested in seconds. Why didn't that happen here? It's unacceptable.
Q: The agents knew Gonzalez. He's able to leap the fence. How many Secret Service agents stood between him . How many people were there?
A: The White House is secured by the uniform division. I can provide you information in a different setting (she doesn't want to say in public).
Q: How many people accompanied you to this hearing?
A: About 12.
Q: That kind of cuts against the idea of a manpower shortage. How do you assess the culture in the Secret Service?
A: I've met with every front line supervisor and provided additional training to ensure they know how to lead. We're providing training for the workforce. We're meeting difficult requirements around the world. We're making a good transition in recognizing we've made missteps.
Q: Was there a reduction in countersurveillance manpower?

A: I don't believe so.
Q: Why should we have confidence in the Secret Service when there's been such a pattern of lax security?
A: The incident on September 19 is not representative of a pattern. My concern is the effective security plan was not properly executed.
MT: @WesleyLowery: "Have you ever heard of these guys?" -Rep John Mica #SecretService pic.twitter.com/g93IQ8pWSz

— Tanya Chattman (@ChattmanTanya) September 30, 2014
Q: What stopped the six Secret Service agents from getting him when he jumped the fence?
A: We are looking into why Mr. Gonzalez was not stopped when he jumped over the fence. I need to understand why he was not recognized earlier in the day and why further surveillance wasn't put on him. I can't answer that now.
Update: Washington Post reports the Secret Service agent who tacked Gonzalez was off duty. That nugget hasn't made it to the committee yet.
(The committee will push for a further investigation and has now gone into secret session.)