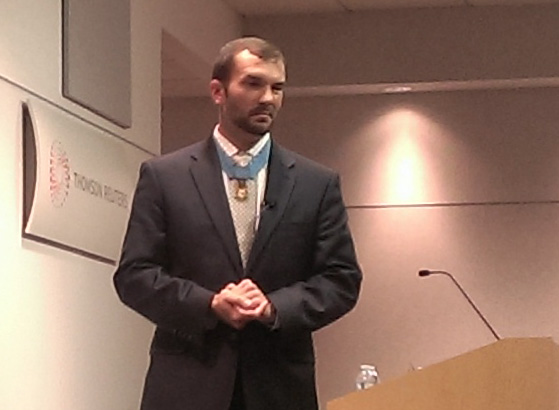 When war journalists Tim Hetherington and Sebastian Junger asked Sgt. Sal Giunta for his reaction when he was told he would be nominated to receive the Medal of Honor for his heroism during a 2007 ambush by the Taliban in Afghanistan's Korengal Valley, he had a fairly short response.
"F*** you," he said incredulously. "I didn't do s***."
When he was later told that he had been selected to receive the honor, the Iowa native called the words he heard "hurtful."
It wasn't at all meant as a sign of disrespect. It echoed the sentiment of most every Medal of Honor recipient in history, or so it seems. That he was no more deserving of the honor than any other soldier.
But he was certainly worth honoring. A 2010 presidential declaration said he was. So did several hundred employees today at Thomson Reuters in Eagan and a worldwide webcast to the company's offices where Giunta spoke this afternoon.
Giunta doesn't talk long without mentioning Wisconsin native Josh Brennan, the soldier he rescued from the clutches of the Taliban that October night. Brennan died a short time later.
Today, he said, was different because Brennan's cousin works at the Eagan campus, was instrumental in bringing him to the company, and watched him speak.
"I can never make up for the loss," he said. "I don't know that I was the closest one who could make the biggest difference and I struggled with it for a very long time. And when I get on stage, I get to talk about 'us' and 'we' the Brennans, and the (squad leader Erick) Gallardos , and the (PFC Kaleb) Caseys and the (PFC Garret) Clarys and the (Specialist Hugo) Mendozas, and the (SPC Frank) Eckrodes and the buddies who were around me. I've never done anything alone and I don't want to talk like I did anything myself because I never did. I think that makes it much easier for me to carry it."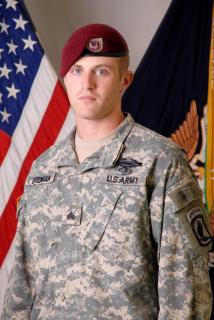 Josh Brennan
Two months before the ambush, Brennan was shot in the calf. "The medevac (medical evacuation) couldn't come in," he said, "so he walked three miles."
Giunta, who had R&R after he'd been shot months earlier, told him there was plenty of ice cream and hot showers where he was going.
"Two days after that, this Blackhawk helicopter came in the valley," according to Giunta. "It could have food or mail. But only one thing came off the helicopter: It was a dude and he walked with a limp. He said the showers were making him soft and the ice cream was making him fat."
On the night of the ambush, the soldiers did what they were trained to do. They charged. "None of us did any more than the next man did," he said.
"If you lose 3 out of 4 people in an ambush, the Army will pat you on the back and say 'good job,'" he said. "Brennan charged. I charged too. I couldn't let Brennan hold it over me," he said.
Brennan was shot several times and was being carried away by the Taliban when Giunta chased them down.
The president of the United States tells the story from here better than Giunta does.
"I pulled Brennan in," Giunta said today, "and the enemy started to retreat. When there was space between us, the two Apache helicopters went to work on them and, as far as I know, no enemy survived."
Fearless? It doesn't appear so.
"One of the greatest fears I have is that the greatest thing I'll ever do, I already did," he told me later. It's one of the reasons he and his family have moved to Colorado and he's attending college there.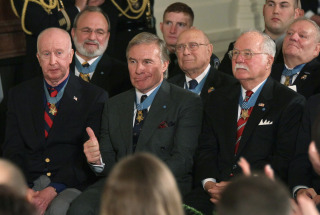 Former Medal of Honor recipients. Photo:Getty Images
If he didn't fully understand being a Medal of Honor recipient in 2010, he understands it now, thanks to some of the 75 other living Americans who have a medal just like his.
"I was very embarrassed to start and I think they could all see that," he said. "One of the first people to take me under his wing was a man named Walt Ehlers, who stormed the beaches of Normandy.
"He told me how it affected his life and the power that it has. It is a tool. It is not a burden, but it is an awesome responsibility — the things you can do that can change things for all of us.
"I'm talking to a guy who's been out of the military almost three times longer than I've been alive and yet everything he said to me was just the most on-point, valid thing anyone could say.
"I'm not a suit-and-tie guy," he said. "I put the suit on whenever I put the medal on because it represents more than I could ever be."
A few hours after the 2007 ambush, he called his parents in Iowa. But before he told them what happened, he said "I'm only going to tell this story once."
He's never told it to them again.
It was a year and a half before he told the story to his wife.
"I didn't want them to know about this," he said. "That's one of the greatest gifts I could give to my wife or my mother — to not know war.
"War is awful. War is terrible. It's disgusting, and gross, and brutal, and it should always be the last resort, and yet we've been doing it for 14 years, and if there's anything I could give it would be the fact that they don't have to know all of those things. It doesn't win me any points explaining it to them."