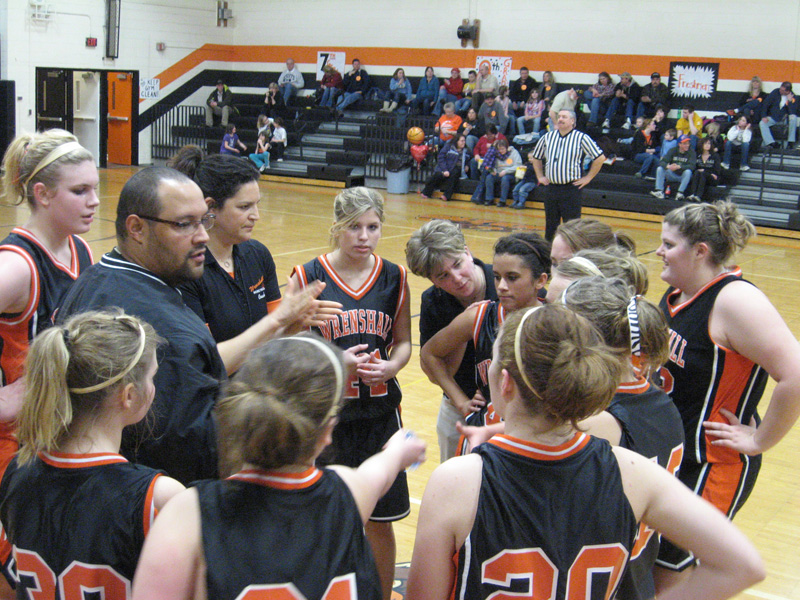 If I had to choose one of the more-than-10,000 NewsCut posts I've done since starting this blog, this would be the one: the girls's basketball team at Wrenshall.
They'd just lost a game 65-0 and were the target of cruel jokes, mostly by people who shrink from the challenges these kids met with pride.
In the end, all they wanted to do was beat Carlton — the big high school rivalry in town. We all had them when we were kids.
But most of us never had to face what many high school rivalries in greater Minnesota have to face — becoming one with the hated rival.
It's happening in Wrenshall and Carlton — maybe — according to the Duluth News Tribune today.
The two school boards will consider combining their districts later this month.
"Carlton is begging us to combine to get them out of the hole. If Carlton wants to combine, let them go to someone else. … Leave us alone," Caroline Johnson of Wrenshall said at a public hearing last week.
The consolidated district could offer better programs, which will lead to better education, (Kevin Holm of architecture firm LHB) said. The consolidation would save a minimum of $1 million that can be used toward other educational opportunities or the facilities. If another foreign language is added into the curriculum, for instance, it would increase the consolidated district's costs, but would also improve the district's curriculum offerings, he explained.

Some Carlton parents say they support the consolidation because it could mean more educational offerings for students, with some parents saying they are planning to enroll their children elsewhere if the consolidation doesn't occur.

Wrenshall alumnus Kyle Holmes recently moved from Carlton to Wrenshall and said that because of Carlton's facilities and Wrenshall's lack of educational opportunities, he is looking for the best education options for his children and is considering the Esko, Cloquet and Barnum school districts.

A consolidated school district could offer children more options that are "opportunities to grow" for students, he said. Parents are consumers with open enrollment options and he hopes both school districts see their limitations.
It probably makes sense in the long run.
And now might be the right time. Last month, the kids of Wrenshall beat Carlton, 41-to-34.