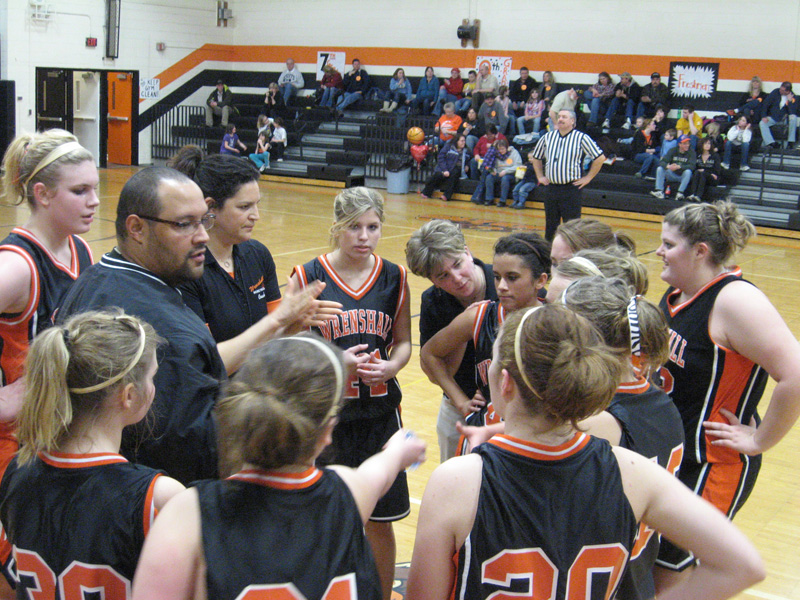 When the book closes on NewsCut in the not-terribly-distant future, it seems obvious to me now that of the nearly 13,000 posts I've made in the last nine years, the oft-mentioned story of the girls basketball team in Wrenshall in 2010 is going to be on the top of my list of favorites.
It was not only the story of how a small number of kids showed up in the face of certain losses; it was a metaphor for rural Minnesota and rural America, struggling against the realities of the day.
If they allowed themselves to dream of a win, all the kids were unanimous in what game it would be: Carlton. Their arch rivals.
Keep that in mind today while you read the Duluth News Tribune's story about continuing hopes — or fears, depending on your perspective — that the Wrenshall and Carlton school systems consolidate athletic systems.
The two schools' nine-man football teams meet each other tonight. Both are winless. Wrenshall has been outscored 92-to-20 in its two games. Carlton is 0-3, outscored 74-to-26.
Wrenshall coach Jeremy Zywicki is frustrated, according to the News Tribune. The two towns are such rivals that even forfeits, because of having too few players, can't convince the communities to huddle up.
"These kids deserve the opportunity to have a program and to be successful with it," Zywicki said. "And we can't give that opportunity year to year to year because we struggle with numbers."

The coach believes athletic sustainability at both schools will require a commingling of resources. Carlton boasts a healthy roster, with more than 30 players. And first-year Bulldogs coach Andrew Weber, an assistant under Erik Hanson the past two seasons, says he has 17 freshmen and, beyond that, about 11 eighth-graders. His club is in good shape. But it wasn't long ago that the Bulldogs had to forfeit their entire 2011 slate and half of 2012.

On the field, wins have been elusive. Since 2007, Carlton is a combined 12-57; Wrenshall is 23-37.

"We struggle to even get a starting lineup for each of our games," Wrens senior Phil Vine said.

Vine was asked hypothetically how he would have felt competing alongside players from Carlton under a co-op arrangement.

"I think we'd definitely be more successful and we'd probably be more consistent in winning games, instead of having a good season and then five bad seasons," he said. "It's like a big roller coaster."
Losing can build character, too, as the girls from Wrenshall proved in 2010. But there's only so much you can learn by losing.
But there's something bigger here, too. It's community pride.
It's a safe bet that fears of lost identity are stoking the trepidation. Schools and their athletic teams, especially in small towns, provide a sort of pulse for the rest of the community. They are social hubs deeply rooted in tradition. Carlton's school was founded in 1910; Wrenshall's in 1918. Sports in both places always have been a source of pride.

Similar concerns are aired whenever consolidation or sports co-ops are bandied about. They were when students from AlBrook, Cotton and Meadowlands came together to form South Ridge. And they were when the Lakers from Moose Lake and Wildcats from Willow River merged in the 1980s. Or when the numbers game forced hockey players from Silver Bay and Two Harbors to unite as the North Shore Storm.
"It seems as though the two communities are just too headstrong, too opinionated about it. It just doesn't seem to be reconcilable right now," Joel Swanson, an English teacher and assistant football coach at Wrenshall, said. "I think if the kids were allowed to interact and they were able to play together and break through that barrier, I think that would be key in going forward."
I'll wear my Wrens sweatshirt tonight and hope they get a taste of victory. Despite the long odds, you just can't stop pulling for the kids of Wrenshall.