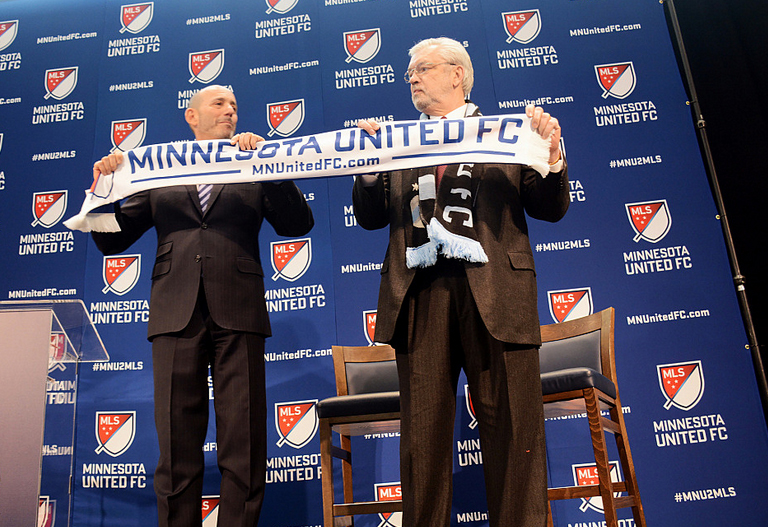 The Star Tribune today provides a fine example of the vision of some Minnesota lawmakers, who tried to prevent the .15 percent sales tax in Hennepin County from becoming a slush fund for wealthy sports owners and their political allies.
You'll recall the tax was authorized in 2006 by the non-Hennepin legislators who didn't want their own constituents to pay for a new Twins stadium, over the objection of Hennepin County legislators.
Theoretically, the tax would expire as soon as the stadium was paid for. But the theory ignores the physics of politics: Taxes don't expire, even though the tax is taking in more money than expected and the stadium will be paid off early.
Now that the owners of Minnesota United are checking the state's couch cushions for spare change to pay for a new soccer stadium, some legislators are looking prescient, though they didn't envision a soccer stadium being the possible use of the redirected tax.
Interesting things happen late at night deep into a legislative session, and in May 2011 legislators passed a bill provision requiring legislative approval to divert the Twins stadium money to another stadium. It also capped a reserve fund.
The Strib looked back at the comments made during the 2011 hearings on the subject, finding impressive foresight.
"I don't think any of us who supported the ballpark have any design or ambition to keep the tax on indefinitely," (County commissioner Mike) Opat told legislators in 2011. "We never made that argument over here."

Mary Beth Davidson, the county's lead lobbyist at the time, was more direct to legislators. "I would implore you to please not pass this," she said.

In 2011, Lenczewski said, her main worry was not a soccer stadium but a new football stadium for the Minnesota Vikings. "A future Legislature could come along [and use this to] do a Vikings stadium," she said of the countywide sales tax money. The Vikings however obtained their own public subsidy package in 2012 for a $1 billion stadium now being built on the other edge of downtown Minneapolis.

Sen. Warren Limmer, R-Maple Grove, joined Lenczewski in 2011 in pushing for the added restrictions, especially those aimed at making sure the tax ended.

"I believe there's no expiration date in law right now for the sales tax," Alexandra Iverson, a county budget official, said during the 2011 hearings. "Our assumption is that it expires when the [ballpark] bonds are paid off, and that looks right now [to be] in 2037."

Replied Limmer: "I don't think it expires at all. Even if bonds are paid off, there's no end date."
Today, Bill McGuire, the owner of the new MLS franchise in Minneapolis, will meet with top lawmakers at the Capitol. Yesterday Senate boss Tom Bakk told reporters "there just isn't any support here for another stadium."