Today's sports news comes from the Department of Lipstick on a Pig.
Uni Watch, the website that tracks every thread in the world of athletic apparel, claims to have been tipped to the NBA uniforms to be used by teams playing on Christmas.
The local entry: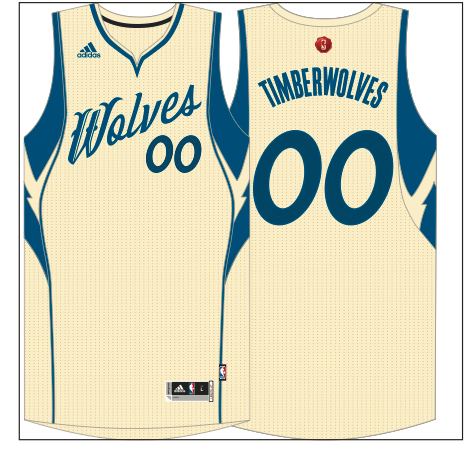 Of course, there's almost no chance we'll ever see the Timberwolves wearing the uniform because Christmas NBA games tend to showcase the best teams in the league, plus whatever team is playing at Madison Square Garden that day.
The Timberwolves are not among the league's best teams, according to sources.
But you have to love the way designers play to our brain chemistry.
The script chest insignia are meant to evoke the feel of the fancy script on a Christmas card. I think most of them are pretty nice on their own, although the repeated template waters down the visual effect a bit. I'm not sure why they chose to have the scripts running uphill with the uni numbers offset to one side, but I like it — reminds me of the Cavs' uniforms from the first LeBron era.

4. The heavy use of cream, instead of white, is meant to evoke a feeling of parchment. Strictly speaking, it's not cream — it's greige. I initially thought that this was a nonsense term cooked up by the Adidas marketing department — a contraction of grey and beige — but it turns out it's a real term for fabric that's neither dyed nor bleached. The plan is for the NBA to feature this as a sustainability storyline — "Hey, no dyes!" That's ridiculous, of course: If you really want to promote sustainability, just wear your regular uniforms on Christmas instead of creating a set of disposable one-day designs.