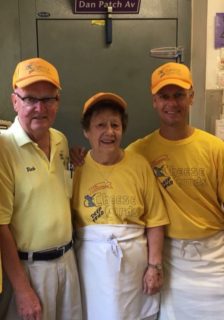 The family that ran the original cheese curd stand at the Minnesota State Fair isn't giving up, even though the State Fair Board has given their space away to a bacon vendor.
Dick and Donna Mueller, who started the cheese curd craze at the fair decades ago, want to retire and hand the booth over to younger members of the family.
But a State Fair policy against transferring businesses is preventing it; its board has been unpersuaded by the public response.
Today, the Mueller's son, Tom, published an open letter to the Fair.
It's a tradition we and our employees are proud of starting and one we'd love to keep up from our booth on Dan Patch.

Unfortunately, you've decided we can't do that.

You wrote to me April 5 — more than a year after I submitted my application to continue running our family's stand— and said that closing our business and forcing us off the fairgrounds "is in the best interest of the State Fair and fair guests."

Our sales represent roughly 20% of all cheese curds sold at the fair and our employees and customers alike return year after year, so I don't know whose best interest you have in mind.

I don't think this is right and I want you to reconsider.

I've heard from thousands of people through social media, online petitions and personal letters, encouraging me to continue our family tradition so they can continue theirs.

That's why I'm asking the Minnesota State Fair, General Manager Jerry Hammer and Deputy General Manager Jim Sinclair to work with me to find a way to stay.

I want the Original Deep Fried Cheese Curds to be at the Fair this year and into the future — for our loyal customers, our employees and the thousands of people who are asking you to #SaveTheCurds.

Sincerely,
Tom Mueller
Mueller says he's hoping curd fans will pressure the fair directors.
The fair's general manager said earlier that the Muellers were unclear what they wanted to do. Other businesses with retiring owners, however, say they, too, have been evicted from their spots.