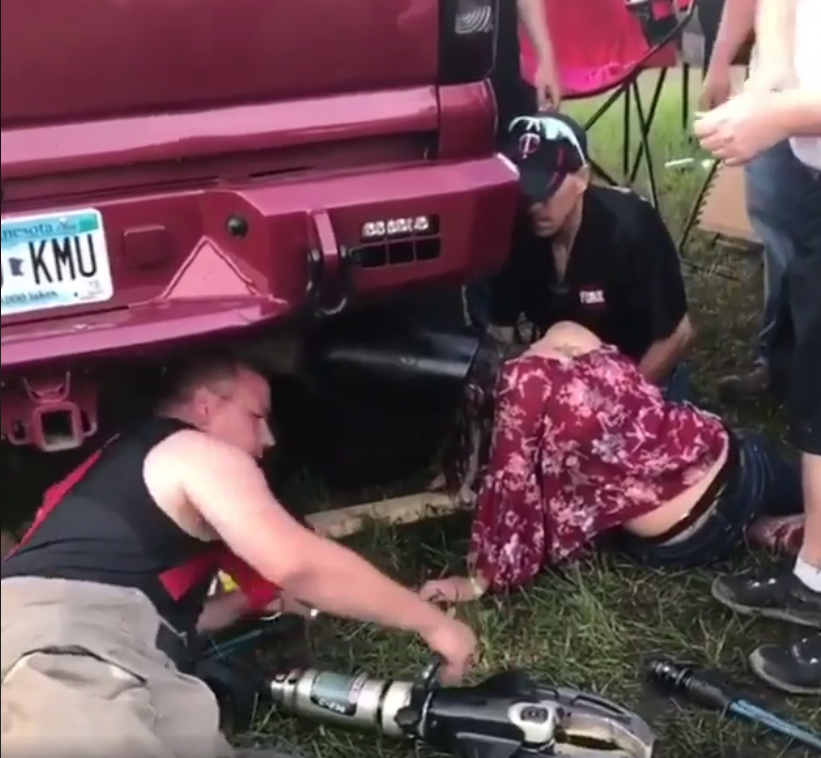 It's good for Kaitlyn Strom that on the day a picture circulated of her with her head stuck in a tailpipe of a pickup truck, the world's attention was diverted by a raccoon doing raccoon things.
So the Hutchinson Leader today fills in the gap and provides her answer to the obvious question people have asked since she saw the tailpipe as an invitation at Friday's night's country music festival in Winsted, Minn.: What on earth were you thinking?
"We were just all having fun and I saw this big exhaust pipe and I was like, 'Hey, my head could probably fit in that,'" she tells the paper, "so I tried it. It did fit, but it didn't want to come back out."
"(I was) kind of confused because I didn't know what was going on, because I couldn't see around me," she said, "But I trusted everyone who was around that I knew to get me out safely."
Her 45-minute predicament earned her 15 minutes of fame thanks to a six second video that raced around the internet.
"I'm just brushing it off, because that's expected to happen," she said. "A lot of people don't realize how serious it was. So it's kind of expected when it's blasted on the internet that you're going to get negative comments … Some people can be really cruel."
She said she's focusing instead on the people who helped her.
She also identified the owner of the pickup truck, who now has to buy a new tailpipe: Tom Wold, of Darwin, Minn.
"I did not know him, but everyone who was around me knew him," she said. "He was wonderful. I remember getting my head unstuck, and I just looked at him and apologized, and he said, 'No, I'm just glad you're OK. Don't worry about it.' He has already fixed his exhaust and is going to be working on that. I did not have to pay for anything like that, because he was absolutely wonderful."