What gets you fired quicker in the National Football League: treating a woman like a ragdoll? Or criticizing a prima donna quarterback?
I know. Silly question.
It took the Kansas City Chiefs and the NFL nearly a year before the team jettisoned star running back Kareem Hunt. It took a TMZ video of an incident in Cleveland, showing Hunt punching a woman. The team started to investigate the incident but was told by the NFL, which has a history of covering for abusers, not to.
In Green Bay, however, it took mere minutes for the team to react to a tweet from Winston Moss, the associate coach for linebackers.
He called out quarterback Aaron Rodgers, who didn't get along with coach Mike McCarthy. McCarthy was fired on Sunday.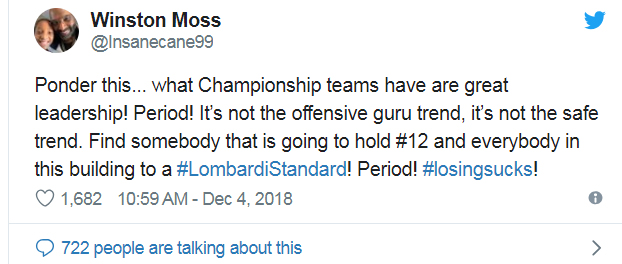 The Packers have informed me that there letting me go. #thankstwitter!

— Winston Moss (@Insanecane99) December 5, 2018
Joe Philbin, the interim coach, issued the usual blah, blah, blah.
"We thank Winston for his contributions to the Packers over the past 13 years," Philbin said in a statement. "We hope for the best for Winston and his family moving forward."