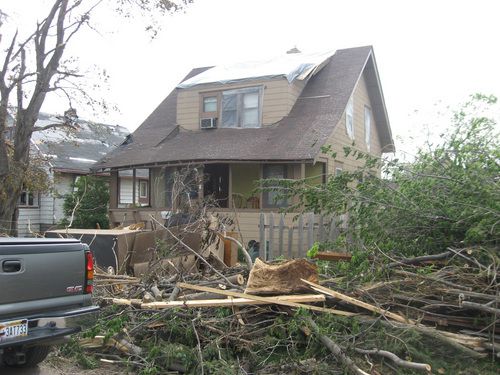 Julie Ovenhouse is part traffic cop, part therapist, and part handyman. Her actual title is Special General Adjuster for Farmers Insurance Group. Ovenhouse, who flew in from her home in Michigan this week, specializes in large-loss catastrophes. North Minneapolis more than qualifies. Her job is answering the question that is always the first one victims of disaster ask: "Where do I start?"
Deb and Ed Funk of Newton Avenue have been asking that question since the tornado ripped part of the roof off their home and destroyed a garage. Deb was sitting on her front steps when Julie arrived early this afternoon.
"I'm so sorry for your loss," Ovenhouse said. She meant it. She's seen the looks that greeted her before. On Tuesday, for example, she visited another home — this one a total loss — whose owners weren't sure the insurance would make things OK. Stunned early in the morning, by the end of the day, she says, the homeowners had a check for over $200,000 and a plan: They'd pay off the mortgage, demolish what's left of the house, move away, and donate the property to Habitat for Humanity.
It's a human success story, but not for a neighborhood that doesn't need people moving away.
Ed and Deb Funk have lived on Newton Avenue for 31 years. On one side of their home, a foreclosed home sits without any attention to its destruction. The man who once lived there was unable to make his mortgage payments after he quit his job to take care of his mother. But he returned this week to help the Funks and other neighbors.
On the other side of the Funks, another house is empty. Renters lived there. After the tornado, they left, leaving some pets behind.
"Over the last 10 years, we've thought about moving out," Deb told us.
"I could never leave here," Ed told me later. "This is my home."
Deb, it seemed to me, wouldn't mind hearing that the house was a lost cause. Ed wanted his house fixed.
All of that depended on Julie Ovenhouse, who discovered right away that this is a different sort of house. This is a collector's house. Thousands of action figures and collectibles occupied most every inch of the home.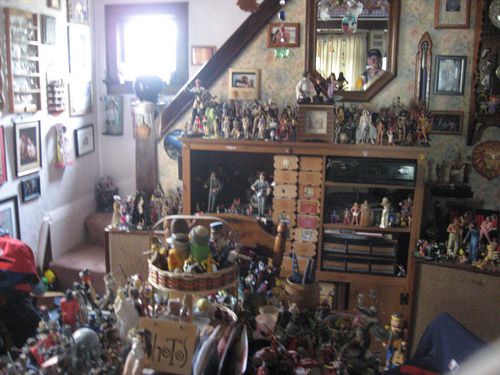 Ed says he's been collecting toys since he was a boy — he still has his wind-up toy collection. He started by going to flea markets to buy more collectibles, but now he goes mostly just to socialize with other collectors, and maybe add to the collection of stuffed Opus characters in the bedroom.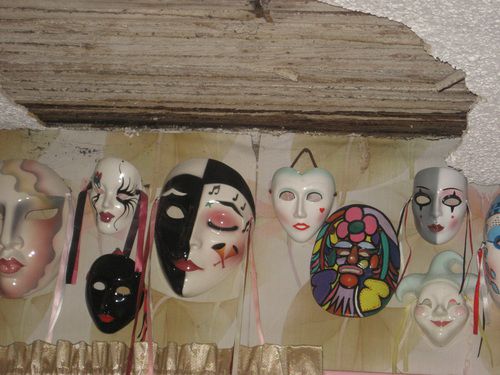 Ovenhouse discovers the problem there fairly quickly. Water from the hole in the roof means the ceiling is about to give way. Deb hasn't been up to the second floor since the storm, but quickly retreats when she looks at the mess. Piles of old tax returns are mixed in with the General Lee toy car collection from Dukes of Hazzard.
"What do you think, John?" Julie says to a contractor from Woodbury.
"I'm a gut guy," he says. "We can gut this right down to the studs, and then we're going to find the real issues."
Things aren't looking good on Newton Avenue, but a visit to the cellar reveals no game-ending structural damage, and the condition of the walls doesn't suggest the tornado picked this house up and left it unrepairable.
"You'll tell me whether it's better to just bulldoze it?" Deb Funk says, with a hint that it's a suggestion more than a question.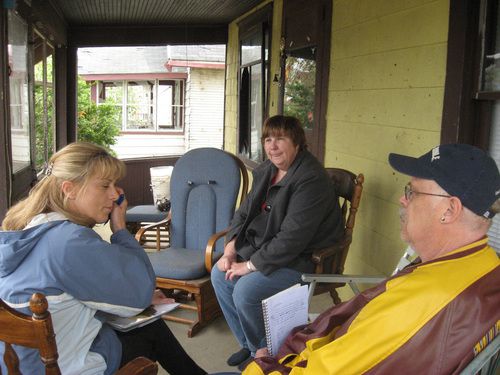 Ovenhouse delivers the best news the Funks — at least, Ed — could have hoped for. "You have plenty of coverage to repair what's damaged. It's not a total loss," she says. The Funks are insured for $236,000 and Ovenhouse doesn't believe the repairs will come close to it, although the contractor isn't so sure. He notices that the house is covered with asbestos shingles. There is also the question of how strict Minneapolis will be in requiring contractors to bring the homes in the area up to a code they didn't meet before the tornado struck.
If it's a relief for Ed and Deb, it's a temporary one. With one big question answered, other big questions move up in line.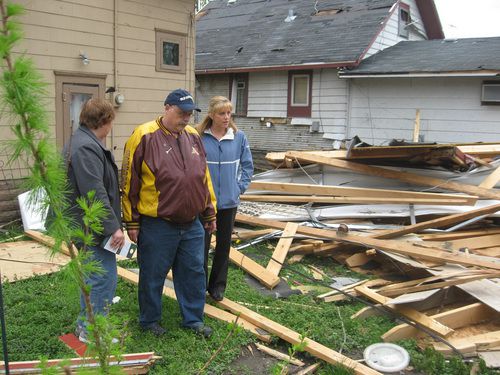 How long will it take? About three months, the contractor says, which means they'll have to stay with a relative in Big Lake for three months.
The contractor also says he's not sure when he can begin. It might be another three weeks. "I'm not sure I can get my guys to come into the neighborhood," he says. It's a pain in the neck to constantly lock, unlock, and watch the vehicles and tools, he says. North Minneapolis is a tough part of town. Deb Funk thinks she might like to consider another contractor.
"How will we get everything out of here?" Ed asks Ovenhouse. Insurance will pay to have things packed and moved to temporary storage, she says.
As we sit on the porch, a man walks up and says he's from a nearby church, checking to see if everything is OK and whether the family needs anything. "We have some access to funds for you," he tells Ed. But Ed says they're better off than most people.
"I go from feeling lucky to be alive to wondering why I'm still alive," Deb says.
A neighbor stops by to tell a tale of looters. He's carrying a pad of paper with license numbers of people he's seen stop to grab things out of people's yards. "I was putting stuff in my garage on one side," he says, "and they were taking it out of the other."
As he sits on his porch and surveys a treeless neighborhood, Ed says he knows he should be moving about and doing something. But right now he can only sit and watch, thinking about the vacation time he's taken from work this week, the houseful of collectibles that need to be moved, the pride he'll sacrifice to depend on extended family for three months, and the resentment he has over the gawkers who jammed his street on Sunday afternoon.
For more than four hours, Julie Ovenhouse measures and photographs the home, and ministers to the couple. Even the bad news — the insurance company won't replace a fence — comes with the compassion of someone you'd think was at her first disaster.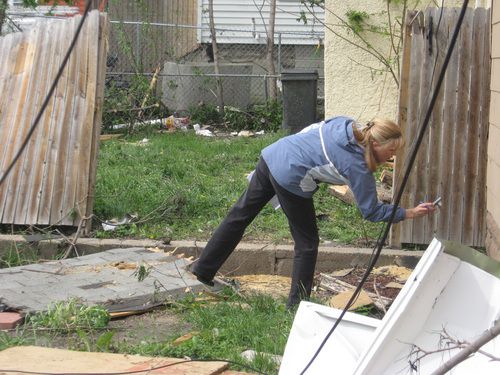 At the end of the afternoon, Deb Funk has a warm hug for Ovenhouse. A check will come in a day or so. Today's delivery was more valuable: A start.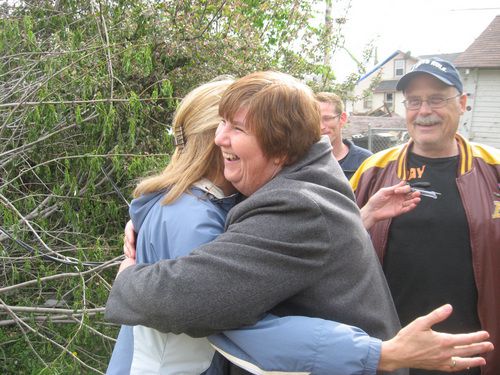 As she walks to her car, Ovenhouse's phone rings. It's a call from home. "Oh no," she says. "My daughter has an event tonight and it's formal and only my husband is home."
Julie Ovenhouse specializes in disasters.